How Much Pain Will Bond Investors Tolerate?
by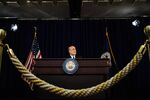 The bond market is at a tipping point. How much pain and volatility can investors tolerate before they liquidate wholesale amounts of the $1.26 trillion they've piled into bond funds over the past six years?
That's a huge question in the wake of June's record $61.7 billion of withdrawals from bond mutual funds and exchange-traded funds. Bank of America Merrill Lynch's Global Broad Market Index declined 2.9 percent in the past two months, the most since 1996, as Federal Reserve Chairman Ben Bernanke explained possibilities for reducing the Fed's $85 billion in monthly bond purchases. "Off Ramps Get Crowded After Fed Unveils Clearer Roadmap for End of QE3," read the subject of EPFR Global's latest weekly fund-flows e-mail.
"We are at a definite inflection point," Richard Schlanger, vice president at Pioneer Investments, told Bloomberg's Mary Childs and Daniel Kruger. "If this thing continues in this vein, people are going to throw in the towel and you're going to get this pain trade. And the markets can't take it. They'd rather see a gradual rise in short-term rates versus a precipitous rise."
The epicenter of dislocation: the benchmark 10-year Treasury yield shooting up to 2.61 percent on June 25, the highest level in nearly two years. The Bank of America Merrill Lynch U.S. Broad Market index fell 3.5 percent in May and June—its worse showing since the two months ended October 2008—a period that saw Wall Street in outright meltdown mode. Treasuries lost 3.3 percent in the last three months for their third straight quarterly decline. And corporate bonds had their worst quarterly loss in nearly five years.
Single-digit declines can be disproportionately painful in bond land. Since April 30, the value of the Bank of America Merrill Lynch Global Broad Market Index has contracted 3.8 percent, to $45.8 trillion.
Investors are now having to choose between the prospect of continued losses in their bond portfolios and going to nil-returning cash. Money-fund yields averaged 0.04 percent this year, based on the Crane 100 Money Fund Index. As for government bonds, yields are still so low that investors are getting to keep little after inflation takes its cut. Real yields on 10-year Treasuries, after subtracting the annual inflation rate, were 1.09 percentage points as of June 28, compared with the 6.4 percent aggregate earnings yield of U.S. stocks, according to Fed data compiled by Bloomberg. The gap between inflation and 10-year yields is at half the 2.2 percentage point average for the past 20 years. Where do you hide?
In his piece, "Savers' Nightmare," Time's Dan Kadlec explains the predicament for income investors: "Bond yields are up, but buying now risks losses to principal in coming months. Stock dividends were a reliable income alternative for the last few years, but the shares now look vulnerable. Meanwhile, bank CDs and money market accounts haven't improved one iota."
For the first time in a long time, bond investors are feeling statement shock. In June, Pimco's $285 billion-dollar Total Return Fund—the world's largest—was down 2.64 percent, for its weakest monthly performance since the panic-stricken days of September 2008; the fund got hit with $9.9 billion in net redemptions. The Pimco Total Return ETF had its weakest monthly showing since its February 2012 launch. Rival DoubleLine Total Return Bond Fund, for its part, had its weakest monthly performance since its April 2010 inception, according to Morningstar data. "July will not be the same type of month" as June, DoubleLine's chief investment officer Jeffrey Gundlach said in a June 27 investor webcast. "There are profits to be made in the bond market between now and the end of the year."
How patient will bond investors be if volatility remains the order of the day? "Fixed income was there to provide stability and yield," said Chris Acito, chief executive officer and chief investment officer of Gapstow Capital Partners. "Now both of those are gone."
Before it's here, it's on the Bloomberg Terminal.
LEARN MORE