pursuits
Give Her What Every Bride Wants: Knives
By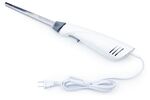 Forget those superstitions that say giving a gift with a blade will sever relationships. Loads of people are buying knives for brides and brides-to-be. Because, seriously: They're way more useful than fondue makers. Oh, and romance is dead.
Americans bought $112 million-worth of small appliances as engagement, bridal shower, and wedding gifts from June 2012 to May, according to NPD Group. The top small appliance gifts:
1. Electric knives
2. Espresso makers
3. Stand mixers
4. Waffle makers
5. Garment steamers
Maybe it's fine to give a knife as long as it's on a registry. Or perhaps you should deal with that unresolved hostility.
One tip for gift-givers on a budget: Make the trip to the physical store if you can. Consumers are more likely to opt for the premium version of a product when shopping online. NPD found that the average price paid for a small appliance online was 56 percent higher than at traditional brick-and-mortar stores.
(
Corrects to reflect that the difference in spending in stores versus online is due to shoppers' choice of products, not price
)
Before it's here, it's on the Bloomberg Terminal.
LEARN MORE