Former FBI Chief Will Investigate Oil Spill Claims Against BP
Paul M. Barrett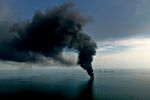 Controversy intensified over one of BP's several multibillion-dollar settlements following the 2010 Gulf of Mexico oil spill. A federal judge in New Orleans appointed former FBI Director Louis Freeh to investigate allegations of kickbacks at the court-supervised claims fund responsible for distributing money to business owners harmed by the spill.
BP had requested the investigation after complaining about the payment of "fictitious" claims. Freeh, a private consultant and former federal judge, recently led a university-sponsored probe of the Pennsylvania State University football coach rape scandal.
As reported in the current cover story of Bloomberg Businessweek, BP's attempts to resolve its massive spill liability by settling government and private claims out of court has led to a feeding frenzy of rising demands. The British oil producer has already written checks for some $25 billion in cleanup costs and damage claims. It has set aside a total of more than $40 billion for this purpose. The litigation, however, shows no sign of abating.
Freeh will investigate one portion of the BP case that the company tried to resolve last year with a settlement originally estimated to cost $7.8 billion over a period of years. Under the pact, BP agreed to compensate businesses for economic losses. In recent months, however, the company has objected that the lawyer put in charge of the claims-payment facility, Patrick Juneau of Lafayette, La., was not following the rules of the settlement and had paid out hundreds of millions of dollars in inflated and even fabricated claims. Juneau denied these allegations, and U.S. District Judge Carl Barbier in New Orleans, who appointed Juneau, has steadfastly backed him.
On June 21, Juneau suspended an attorney on his staff amid allegations of kickbacks and announced that he would investigate the matter himself. BP demanded a probe by an outsider, and Barbier appointed Freeh in response.
In a prepared statement, BP spokesman Geoff Morrell said: "We are very pleased that the court has appointed Judge Louis Freeh as Special Master to lead an independent investigation of the Court Supervised Settlement Program. We believe that Judge Freeh's experience on the federal bench and as Director of the FBI make him ideally suited to conduct a thorough investigation into the recent allegations of unethical and potentially criminal behavior within the program. In addition, Judge Freeh has been granted wide latitude to look for 'other possible ethical violations or misconduct within the CSSP.'"
Lead plaintiffs' lawyers Stephen Herman and James Roy said in their own statement: "We welcome Mr. Freeh's appointment, and are confident that any impropriety, if confirmed, will prove to be an isolated incident. We continue to have full confidence in Pat Juneau, who for more than a year, has led the Court Supervised Settlement Program with the utmost integrity, competence and thoroughness."
A federal appeals court in New Orleans will hear arguments on July 8 over whether Juneau has followed the settlement guidelines. Meanwhile, Judge Barbier is presiding over a separate trial, now on summer hiatus, in which the U.S. Justice Department is seeking up to $17.5 billion in civil environmental penalties from BP. The company agreed last year to pay $4.5 billion in connection with a federal criminal plea bargain.
As the Gulf economy has gradually recovered from the historic industrial disaster in 2010, employment prospects for lawyers in the region have improved far more rapidly.
Before it's here, it's on the Bloomberg Terminal.
LEARN MORE