Don't Expect Silicon Valley to Stop Asking for Political Favors
By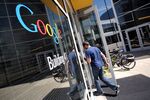 If legislators don't stop granting favors to tech companies, they could transform Silicon Valley from a beacon of innovation into another dreary group of companies relying on government to protect them from competitors, argue George Mason University researchers Adam Theirer and Brent Skorup in a new paper about the history of cronyism in the tech sector. They also suggest that perhaps Silicon Valley should voluntarily disengage from the game.
Not likely. Silicon Valley's lobbying spending has ballooned in recent years, with Google alone spending $18.2 million last year, more than AT&T, Boeing, or Lockheed Martin, according to the Center for Responsive Politics. But if you really want to see the tech sector resembling every other deal-making, legislator-bullying, favor-seeking industry it claims to be different than, flip to Theirer and Skorup's section on state and local governments. Tech companies have been getting deeply into the time-honored game of threatening to leave towns that want taxes from them. Some examples from the report:
• Illinois gave Groupon a $3.5 million tax incentive in 2010 to create 250 jobs in Chicago. The company hasn't quite lived up to the role of stable cornerstone of industry in the years since.
• San Francisco agreed in 2011 to let Twitter out of payroll taxes for six years, costing the city an estimated $22 million in tax revenue, after the company threatened to move. The city offered other companies the tax breaks, often after they agreed to do some charity work, according to a Buzzfeed article earlier this year.
• Washington passed a law in 2012 giving Living Social a series of tax credits and exemptions worth $32.5 million over five years. The company said it would try to add 1,000 employees to its payroll, but ended up going through deep rounds of layoffs within months.
• Texas gave Apple $21 million in state funds, in addition to various tax rebates, to set up an operations center near Austin. "During negotiations, Apple explained that it considered other locations besides Austin. Yet there is some doubt that Apple was serious about any location besides Austin," the authors wrote.
• Also in Texas, Amazon struck a deal with legislators to open distribution centers, so long as it didn't have to collect sales taxes for four-and-a-half years.
"Tax credits for digital technology companies are particularly misguided since (a) the most successful companies don't need them and (b) the smaller companies or startups that might benefit from them present a very risky investment for taxpayers. Startups, famously, may be here today but gone tomorrow. Policymakers should leave such risky investments to venture capitalists and other private investors so taxpayers are not on the hook," write Thierer and Skorup.
These examples bear that out. But when it comes to playing politics, the tech industry seems to show little inclination—and indeed, has little incentive—to follow a different path than those that came before it.
Before it's here, it's on the Bloomberg Terminal.
LEARN MORE