Deutsche Boerse Bets Big on Cloud Exchange
David Meyer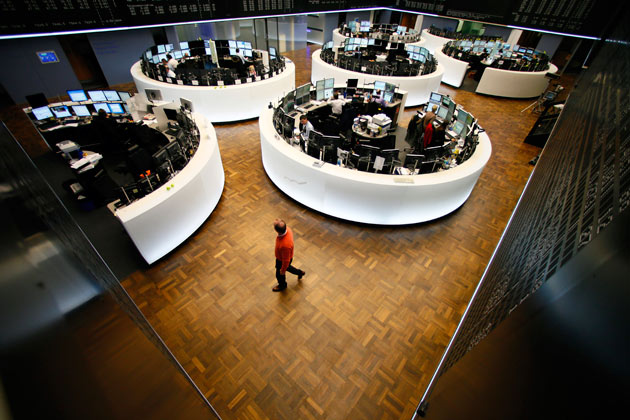 Financial services giant the Deutsche Boerse Group, which runs the Frankfurt Stock Exchange, among other things, is about to make a pretty serious leap into cloud computing. The German company said on Tuesday that it will launch a global, vendor-neutral marketplace for computing and storage capacity in 2014.
The idea of a cloud marketplace is not new, but there aren't many serious players out there yet. Deutsche Boerse's take is very much aimed at the corporate and medium-to-large enterprise market, as well as the public sector, and it uses infrastructure-as-a-service (IaaS) cloud-management software from Berlin-based Zimory to connect buyers and sellers through open APIs.  (The two companies are treating this as a joint venture.)
Zimory Chief Executive Officer Ruediger Baumann, who discussed cloud trading markets at GigaOM's Structure:Europe conference last year, tells me that the Deutsche Boerse Cloud Exchange would make it as easy to trade IaaS capacity as it is to trade energy or securities:
"It's a marketplace where all providers of compute and storage capacity could show their available services and capacities in product groups, in a standardized way. … We are installing on every buyer and seller side a small orchestration interface which, after the trade has happened, will connect both."
Zimory has already worked with a user group of 5 buyers and sellers to establish interfaces for the buyer side, and it will work next on a "southbound interface to things like vCloud Director, OpenStack, and HyperV to connect typical cloud management instruments in data centers," Baumann says. Due to the nature of the exchange, an organization might be a buyer or a seller, depending on its need or surplus at the time.
Deutsche Telekom's T-Systems division is already lined up for the supply side, as are players such as CloudSigma. T-Systems cloud chief Frank Strecker said in a statement that the exchange would "enable us to supply existing and new customer groups such as SaaS providers with globally standardized IaaS products" in a way that makes it easier to offer tailor-made packages. The exchange's categories currently extend to size of storage or compute capacity, but other categories such as service level agreement (SLA) class and territory—down to country-level for those with stringent data protection requirements—will be added.
Both buyers and sellers will need to go through an admissions process, with sellers needing to demonstrate that their data centers conform to certain standards. Crucially though, Baumann notes that sellers can be on just about any cloud platform, thanks to the standardization provided through Zimory's orchestration layer.
As with any exchange, a fee will be involved for both buyers and sellers. However, Baumann contends, this will still prove cost-effective and efficient for large buyers:
"A certain percentage goes to trade, but this is 10 times better than current procurement processes in cloud computing, which take one to one-and-a-half years. Procurement costs are enormous and time-to-market is very enormous."
The Deutsche Boerse Cloud Exchange will begin operations in Frankfurt and New York around February or March next year, then add Singapore for the Asian market four to five months later. "It will be a global play by the end of 2014," Baumann claims.
Virtustream, which bought SpotCloud company Enomaly in late 2011, is supposed to launch its xStream Exchange at some point soon, so it will be interesting to see how this idea pans out—and how the introduction of big-time cloud brokerage affects the supply side as a whole.
For more discussion around this topic, be sure to attend the GigaOM Structure:Europe 2013 conference in London on Sept. 18-19. Baumann will be one of the speakers.
Also from GigaOM
Accenture Launches Cloud Brokerage Service (subscription required)
Can You Predict Future Traffic Patterns? Nokia Thinks It Can
Apple Is Planning a Solar Panel Farm for Its Data Center in Reno
Two Months as T-Mobile US: Where It's Been, Where It's Going
Before it's here, it's on the Bloomberg Terminal.
LEARN MORE