Dear FBI: Keep Guns Off Your Drones, Please. Yours, Congress
By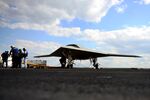 Want to know what Congress finds disturbing about the FBI's no-longer-secret domestic drone program? A letter penned by two House members this week and posted online by Hillicon Valley offers a few clues.
Representatives Zoe Lofgren (D-Calif.) and Ted Poe (R-Tex.) demanded more information about the agency's drone program, which FBI Director Robert Mueller let slip in a congressional hearing last month. He assured lawmakers that his agents didn't use drones often and doesn't have very many of them. Even though the FBI apparently felt the need to start flying the drones before writing rules for their use, Mueller told lawmakers he wasn't opposed to coming up with some for the future. He said the agency was in the initial stages of creating privacy regulations related to surveillance drones.
But Lofgren and Poe, in their letter, make it clear they want FBI agents to obtain warrants before using drones for surveillance of individuals, and to go to a court before using drones to do generalized snooping. They also want the agency to promise not to equip its drones with lethal weapons. Interestingly, while the lawmakers ask about the FBI's plans for drones carrying nonlethal weapons, they don't ask the agency to swear off them.
The requests dovetail with the Preserving American Privacy Act of 2013, a bill in congressional committee since February that doesn't seek to restrict nonlethal weapons like tear gas on drones. The draft legislation specifies only that domestic law-enforcement officials refrain from putting guns on their drones. The Preserving American Privacy Act also purports to govern the private use of drones, making it illegal to record people engaging in "personal or familial activity" in a way that "is highly offensive to a reasonable person."
This week's letter from Lofgren and Poe also pointed out that the government isn't doing the burgeoning drone industry any favors by running vague spying missions with questionable oversight. "Widespread apprehension of improper government use of UAS [unmanned aircraft systems] domestically is hindering the UAS industry in its efforts to gain broad public and commercial acceptance," they write.
It's unclear how much information the FBI will actually be willing to share with Congress or the general public. The Electronic Frontier Foundation has posted documents on its website showing that the FBI is less forthcoming than other governmental agencies on its applications to use drones in national airspace.
Before it's here, it's on the Bloomberg Terminal.
LEARN MORE