Anti-Social Tool of the Day: A Map for People Who Hate People
Presuming your friends use Foursquare, of course.
By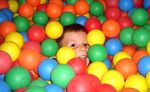 First, there was social media. Then, there was 'anti-social media.' Now, there's "Hell is Other People," an app that maps all the places you can go that are a good distance away from where your friends have checked in on Foursquare.

But first you have to get your friends to join (and use) Foursquare, which from my personal, not-necessarily-representative experience, isn't all that easy. Less than 10 percent of my Facebook friends actually have the app.
Here's a video of the creator, Scott Garner, pointing out the tool's ultimate irony: "I had to sign up for a social media site and talk to people to get them to be my friends on that site so that I could avoid them."
Hell is Other People: Walk One from Scott Garner on Vimeo.
(h/t Google Maps Mania)