A Money-Smuggling Scandal Threatens to Sink the Vatican Bank
by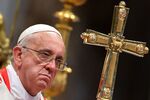 It sounds like a thriller plot: A Vatican cleric, a spy, and a financier are accused of conspiring to smuggle €20 million ($26 million) out of Switzerland aboard a private jet. In fact, it's the latest scandal to hit the Vatican bank, prompting Pope Francis to make sweeping management changes.
The Holy See removed the bank's longtime director and deputy director on July 1, three days after Monsignor Nunzio Scarano and two other men were arrested in connection with the alleged smuggling scheme. Scarano has denied the allegations.
Since his installation in March, the pope also has appointed a trusted aide to help supervise the bank and named a special commission to investigate charges of corruption and money laundering that have dogged the institution for decades. The bank also is to start publishing its financial accounts for the first time. Now the Vatican has even reached across the Atlantic for help, recruiting Washington-based Promontory Financial Group to conduct a forensic review and screen the bank's client relationships. The effort will be led by Elizabeth McCaul, a former New York state banking supervisor based in Promontory's New York office, and Rafaele Cosimo, an expert in bank governance and operations who works for Promontory in Europe.
In its announcement Monday, the Vatican said that Ernst von Freyberg, a German lawyer who was named president of the bank earlier this year by former Pope Benedict XVI, would serve as interim general director. He replaces Paolo Cipriani, who—along with the bank's former president, Ettore Gotti Tedeschi—was placed under formal investigation in 2010 by Italian prosecutors for alleged money laundering. That investigation continues.
Perhaps the most colorful twist in the saga was the arrest on June 28 of Monsignor Scarano. The 61-year-old cleric, a former banker for Bank of America in Italy, joined the priesthood in 1986 and most recently headed a Vatican financial department called APSA. Italian media outlets have dubbed him "Don 500," because of a reported fondness for carrying large banknotes.
John Thavis, a longtime Vatican correspondent for the Catholic News Service, says that while Scarano didn't work at the Vatican Bank, he had accounts there. His arrest appeared to confirm suspicions that the bank, which oversees about €7.1 billion in assets, "continues to be used as an offshore haven," Thavis writes. Scarano is accused of conspiring with a member of Italy's secret services and a financial broker to move €20 million from Switzerland to Italy. Rome Prosecutor Nello Rossi says that a private plane was hired in Italy and flew to Locarno, Switzerland, but the money never left Switzerland because the broker reneged on the deal.
The newspaper La Stampa quoted Scarano's lawyer as saying his client "acted purely in a spirit of friendship" in trying to arrange the transfer and would not have profited from it. The transfer was intended as a favor to the heirs of an Italian shipping company, the newspaper said.
The latest scandal indicates that the bank "may be irreformable," Vatican journalist Thavis writes. The bank, he says, "is fighting for its life. Pope Francis's recent remark that 'St. Paul did not have a bank account' was a signal that radical measures—including suppression of the bank—have not been ruled out."
Before it's here, it's on the Bloomberg Terminal.
LEARN MORE