To Pitch VCs, Just Don't Say 'Vagina'
by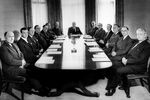 Women entrepreneurs trying to raise venture capital often find themselves pitching to rooms full of men. That alone can be intimidating. Trying to sell them on a women's health product can be especially difficult, as Surbhi Sarna, founder and chief executive of nVision Medical, found out. She's developing medical devices to improve the diagnosis of infertility and ovarian cancer. The U.C. Berkeley-trained engineer is trying to replace a century-old X-ray procedure that involves pressurizing a patient's uterus to find blockages in the fallopian tubes that can cause infertility. NVision Medical recently raised $4.5 million from investors, including members of the Astia Angel network, which invests in high-growth, women-led ventures. Sarna told me about the challenges of raising capital. Here are edited excerpts.
People like to invest in what they can readily relate to. On occasion, I could tell, this person's having a lot of trouble relating to this concept: Why pressurizing the uterus entirely would be incredibly painful for the patient.
With Astia, there was no issue about that. The first time I presented, there were several women in the room who had gone through the procedure I was trying to replace. There was sort of that automatic comfort and understanding with them, which I really appreciated and usually have to work very, very hard to get. Everybody in the room was like, "Oh, God that's horrible. That really needs replacing."
Whereas sometimes, an all-male partnership at some VC fund would come back and say, "We're all really interested, and we all like this concept, and we're sure you'll do well. But we can't find a champion."
I kind of understand. I don't really hold it against them. What guy wants to walk into another room full of guys and say the word "vagina" and "fallopian tubes" 15 times while explaining a product? It's a little bit outside their comfort zone.
When there are women at these VC funds, or they're investors themselves, it's just a lot easier. On the other hand, I pitched in front of the Berkeley angel network. You pitch in front of this room of 50 or 70 angels. There were a few women there, mostly men, per usual. We had 20 investors interested. What was really interesting to me is that they were all men.
When I first pitched the company, I would say, "And you place the device through the vagina and through the uterus and then into the fallopian tubes." I noticed the change in body language. A big part of pitching is reading people's body language. It was just shift, like a readjustment in the way they were sitting.
So I stopped saying that. I stopped describing how the device is used when I pitched. If they didn't ask, you can kind of infer. It's an endoscope. I'm not making any incisions.
I was asked to give a talk at Harvard Business School about starting a company and raising money. One of my slides is about being aware of your audience. That slide starts out being completely blank and then comes up with the word, one word in all caps, taking up the entire screen, which is "vagina." Because that's a lesson I'd like to teach other entrepreneurs: Be really aware of what reactions you're going to get from your audience. I use the word transvaginal. I say, if they ask, "this product requires transvaginal access."
I learned my lesson, sort of. I was speaking one on one with this venture capitalist, and he asked me, "How did you get interested in this?" I said, "Oh, I had ovarian cysts." And you know he responded with, "Yeah, on one of my testicles, there's this cyst." And then all of a sudden it's my body language that changed.
That's when I realized, OK, this has nothing to do necessarily … with blatant sexism or something. It just has to do with comfort level. Maybe if you were a male entrepreneur pitching a testicular device to a room full of women, there might be some sort of odd reaction when you bring up a photo.
Before it's here, it's on the Bloomberg Terminal.
LEARN MORE