Oil Prices Converge as U.S. Bottlenecks Ease
By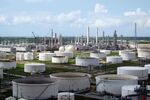 A strange distortion that's persisted in the oil market far longer than many thought possible is finally starting to disappear. First, some background:
For the past few years the prices of essentially two identical types of oil—U.S. light, sweet crude (West Texas Intermediate), and its international equivalent, Brent—have diverged wildly. As the U.S. shale boom flooded the middle of the country with millions of new barrels of light, sweet crude, reversing a 20 year decline in U.S. oil production, the price of WTI crashed relative to Brent. With all that new domestic oil essentially stuck in the middle of the U.S., building up in places like Cushing, Okla., WTI was suddenly super cheap. Anything you can't efficiently transport quickly loses value. After trading within a dollar of each other for decades, by March 2011 a barrel of WTI was trading $15 below a barrel of Brent. By November 2012, the spread was $25. This differential led to one of the biggest arbitrage opportunities in recent memory.
For the past five months, though, that spread has narrowed as more U.S. oil has started making its way to refining hubs along the coasts. New pipelines are relieving bottlenecks. Railroads are now moving more crude than they have since the days of John D. Rockefeller and Standard Oil. By the end of this year, a million barrels of oil will likely be riding the rails, which would be more than a 1,000 percent increase from 2008. America's oil infrastructure is finally starting to reconfigure around new oil hot spots in such places as North Dakota, Oklahoma, and Texas. As a result, the price of WTI has risen 5.2 percent so far this year, while Brent has fallen 8 percent. WTI is now trading within $5 of Brent for the first time in more than two years.
The narrowing spread is somewhat of a vindication for Goldman Sachs's energy research team, which has been predicting a $5 spread for more than a year. As the spread widened late last year, Goldman caught hell from critics, who mocked the bank's premature call that WTI and Brent would narrow.
A narrower spread is also good news for the CME Group, which operates the New York Mercantile Exchange, where WTI futures contracts are traded. As WTI diverged from Brent, critics argued that it lost its value as an oil contract. One of the consequences of lower-priced WTI is that it became insulated from geopolitcal pressures. While threats over Iran's nuclear program roiled the price of Brent last spring, WTI stayed relatively flat. As a result, last summer WTI lost its standing as the world's leading oil benchmark as trading volume in Brent contracts on the IntercontinentalExchange surpassed WTI trading volume.
As the two contracts converge, WTI will likely reflect more global trends rather than the simple supply-demand fundamentals of the U.S. Ultimately, that's good news for WTI in terms of its utility as a futures contract. "The CME is probably the biggest beneficiary of a narrower spread," says John Kilduff, founding partner of Again Capital, a New York hedge fund that focuses on energy. "The [WTI] contract took a hit reputationally last year."
Sadly for consumers, higher WTI prices will likely translate into higher gasoline prices, especially as the U.S. continues to cut its imports of Brent-priced oil. More expensive WTI is also bad news for coastal refiners. Those in the middle of the country with easy access to cheap doemstic crude have enjoyed blowout profits over the past couple years, while their coastal counterparts were often stuck buying higher-priced imported Brent oil. Ironically, one of the functions of getting more WTI to market is that its price will eventually rise.
Before it's here, it's on the Bloomberg Terminal.
LEARN MORE