Is the Case Against SAC's Steven Cohen Falling Apart?
by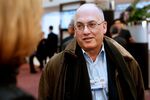 An appeals court ruled on June 18 that two convicted hedge fund traders, Anthony Chiasson of Level Global Investors and Todd Newman of Diamondback Capital Management, could remain out of prison as they appeal their convictions. The ruling was heartening to the two men, both of whom are facing long separations from their families. But within the U.S. Attorney's Office and the Securities and Exchange Commission, the decision triggered something akin to a mass anxiety attack, as it casts uncertainty on some of the strongest potential legal avenues the government has to charge SAC Capital founder Steven Cohen.
The expectation had been that both men would immediately report to prison, Chiasson to serve a six-and-a-half-year sentence and Newman a four-and-a-half-year sentence. Instead, what the appeals court said was that Chiasson and Newman have enough of an argument to make about whether they are guilty or not that they should be able to postpone their fittings for prison garb for a few more months. "This sounds to me like this is going to be a very lively appeal," Judge Barrington Parker said.
What seems to be happening is that the definition of insider trading may be shifting under the Department of Justice's and the SEC's feet. Suddenly, thanks to a series of court rulings, it's less than clear what, exactly, traders need to have known about the source of their information to be held criminally liable for insider trading. The matter is of particular importance to Cohen and his defense lawyers, who have been trying to dissuade the government from charging the billionaire hedge fund founder over a series of Dell trades that occurred in August 2008, according to people familiar with the matter.
The key question is whether Cohen knew if the original source benefited from passing along the tip. In other words, did he know that the original Dell source would benefit from passing along the information? The Dell trades formed part of the case against Chiasson and Newman, as well as the basis of an insider trading charge filed in March against current SAC portfolio manager Michael Steinberg. Steinberg has pleaded not guilty. By the time advanced intelligence about Dell's earnings made its way to Steinberg, and potentially Cohen, it would have been multiple steps removed from the original leaker at the company.
A 1984 Supreme Court case, Dirks v. SEC, established that an insider at a company must breach his or her fiduciary duty to the company and its shareholders, and the executive must receive some sort of personal benefit for doing so, for the law to have been broken. But the definition of personal benefit was left rather loose—simply helping a friend would qualify.
A 2012 case, SEC v. Obus, attempted to clarify the question of whether the recipient of the information needs to know about the personal benefit the tipper got in exchange for the tip. The appeals court, which ruled in favor of the SEC in that case, suggested that the tip recipient did not need to know those details. But the opinion is muddled at best—one legal expert compared it with a poorly written law-student paper—and seems open to interpretation, depending on whether one is a $1,200-an-hour white collar defense lawyer or an underpaid prosecutor in the Southern District of New York's securities unit.
To complicate matters further, two highly respected judges recently offered conflicting views. During the insider trading trial of Doug Whitman, a former hedge fund executive convicted in August 2012, District Judge Jed Rakoff said that "it is sufficient that the defendant had a general understanding that the insider was improperly disclosing inside information for personal benefit." But during the Chiasson/Newman trial, Judge Richard Sullivan told the jury that the traders did not need to know about the benefit for a crime to have occurred.
Although Sullivan denied Chiasson and Newman's requests to remain free while they wait for their appeal, the Second Circuit Appeals Court judges felt they had enough of a case to rule differently. If the government loses the appeal on this issue, any potential Dell case against Cohen would likely disintegrate.
One person who is following the question closely is one of Cohen's defense lawyers, Michael Schachter, of Willkie Farr & Gallagher. He has written at least two papers on the issue of the shifting definition of insider trading.
Meanwhile, five SAC executives who received grand jury subpoenas were recently interviewed by prosecutors, while Cohen himself, in receipt of his own grand jury summons, invoked his Fifth Amendment right not to incriminate himself and didn't appear before the grand jury at all. So far at least, no charge against him or his firm has materialized.
Before it's here, it's on the Bloomberg Terminal.
LEARN MORE