Egypt Killing Exposes Study Abroad Perils in Danger Spots
Janet Lorin and Tarek El-Tablawy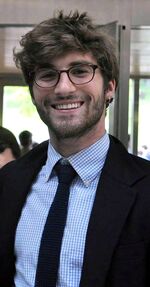 U.S. students studying or working in Egypt said the June 28 death of Andrew Pochter at a demonstration in Alexandria won't change their willingness to stay in the country.
"Not every protest that goes by in the street is dangerous," Miriam Berger, a 23-year-old Fulbright fellow in Cairo, said in a telephone interview.
The killing of Pochter, who would have started his junior year at Kenyon College in Ohio in a few months, highlights the challenge of colleges and organizations offering study abroad or internship programs, particularly in countries where crises or political unrest can happen suddenly. The number of U.S. students studying in foreign countries more than tripled over the past two decades to almost 274,000 in the 2010-2011 year, according to the Institute of International Education, a nonprofit group and tracks study-abroad programs.
Pochter was one of at least 12 people killed in clashes since June 26 between supporters and opponents of Egyptian President Mohamed Mursi. The 21-year-old from Chevy Chase, Maryland, was in Egypt teaching English to children as a summer intern with Amideast, a U.S. nonprofit group that provides education and training in the Middle East and North Africa. Pochter was no novice to living abroad. He spent a year in Morocco after graduating from high school and before starting college at Kenyon in Gambier, Ohio.
Beyond Europe
Amideast, which has had a presence in Egypt since 1956, "continues to monitor the security situation carefully and take all available measures to safeguard its staff and the students and clients enrolled in its training programs," it said in a June 29 statement.
Students like Pochter are seeking out locations beyond once-traditional Western Europe. Study and internship programs try to prepare students for all possible situations, advising them to register with their local U.S. Embassy and to avoid attending protests, said Allan Goodman, president and chief executive officer of the Institute of International Education.
"Increasingly because these protests and demonstrations quite often turn violent and can't be controlled, students and parents and interns and their parents are going to develop a pretty hard and fast rule, if there's a demonstration, don't go until you know Americans are wanted," Goodman said in an interview.
Avoid Protests
Berger, the Fulbright fellow in Cairo, said there have been very few times when she felt uncomfortable acknowledging or identifying herself as an American, and her parents weren't overly panicked by the weekend events. Even so, she said she steers clear of protests partly because of rules from a language program she previously was involved in.
Hannah Peters, who returned to the U.S. in late May from a yearlong stay in Alexandria, said her program through Middlebury College gave the same instructions.
"If something is going on, we know to avoid those areas," said Peters, 21, who will be a senior this fall at the liberal arts college in Middlebury, Vermont. Peters said the only times she felt unsafe in Egypt were over sexual harassment and not because of political unrest.
Middlebury reinstated its Alexandria program last year after suspending courses and evacuating students the year before during protests throughout Egypt as the pro-democracy movement in the Middle East, known as the Arab Spring, gained momentum.
Evacuation Provider
Its experiences in Egypt led Middlebury to modify its other study abroad programs, including retaining an emergency evacuation provider and equipping the school's 36 sites with satellite phones, said Michael Geisler, Middlebury's vice president for Language Schools, Schools Abroad and graduate programs said in an e-mail. The college also monitors U.S. government warnings.
The U.S. State Department issues regular warnings for citizens traveling or working abroad. On June 28, the department urged citizens to defer all but essential travel to Egypt because of the unrest.
Among current travel advisories are ones for Mexico because of the crime wave led by drug cartels, Syria because of the civil war there and Afghanistan on the threat of kidnappings and insurgent attacks, according to the State Department website.
More than 20,000 U.S. college students are doing internships abroad, according to the Institute of International Education.
Foreign Internships
"Internships are more important than ever before and a lot of students see it as even more important than taking a course," Goodman said. "It's career relevant, it builds their credentials and resumes for someone who's able to work in a different cultural setting."
When students take an internship abroad, they often aren't seeking credit, and their school may not have any record of where they are, said Kim Schatzel, provost of Eastern Michigan University in Ypsilanti.
"When we don't know what they are doing, there's not much we can do," Schatzel said in an interview.
Taji Hutchins, an 18-year-old rising sophomore at Harvard University, is in a summer internship program in Mexico. Harvard representatives explicitly told her not to plan any weekend trips to northern Mexico, close to the U.S. border, as it's considered too dangerous, she said.
Hutchins said she was somewhat surprised to learn that Huichapan, the city where she's working, is considered dangerous at night. She said she hasn't encountered any threatening situations.
Never 'Mentioned'
"I just thought it was strange that no one mentioned it beforehand," she said in an e-mail.
Since Pochter didn't seek credit for his summer internship, he wasn't required to notify Kenyon that he would be abroad, Marne Ausec, director of the Center for Global Engagement at the college, said in a telephone interview. Pochter had completed Kenyon paperwork to spend the spring semester of 2013-2014 in Amman, Jordan, with an Amideast program.
In an essay as part of his application for the program in Jordan, Andrew discussed his fascination with other cultures and languages. He reflected on his hopes to develop "life-long ties ... with Arab-speaking friends," according to a Kenyon statement.
About half of Kenyon's 1,600 students go off campus during their junior year, and in the most recent academic year, 96 percent went overseas, Ausec said. One of its programs was moved to Belize from Honduras because of government unrest there. The study-abroad office has dealt with issues ranging from mugging and robbery to the evacuation of a student from Cameroon in 2008, Ausec said.
Morocco Protests
Alex Djaha, 21, a rising senior at Colgate University, said protests happened almost weekly in Rabat, Morocco, where he studied from January to May. The protests were mostly peaceful and he got e-mails from the U.S. Embassy there about demonstrations so students could make efforts to avoid them.
"I made sure to stay away if I was alone or with other Americans," Djaha, from Scarsdale, New York, said in a phone interview. "My program explained that it was never a good idea for an American to be in a protest."
Chloe Borbewich, a 23-year-old freelance translator from New York, said the only time she'd been uncomfortable identifying herself as an American in Egypt was last Sept. 11, when protesters clamored outside the walls of the U.S. Embassy in Cairo after a film was released in the U.S. that ridiculed the Prophet Muhammad.
Her taxi driver that day said he'd just come from the embassy and had thrown rocks at the compound. Borbewich, a former language student in Cairo, said it was premature to say, in the wake of the recent violence, whether there was an increased sense of xenophobia toward Americans.
Keys to staying safe are being aware of the environment and knowing how easily matters could spiral out of control, Borbewich said. For that reason, she limits going to protests.
"I have attended as an observer, but I can see how in a split second, something could go terribly wrong," she said.
Before it's here, it's on the Bloomberg Terminal.
LEARN MORE