A Death Rocks Cirque du Soleil
by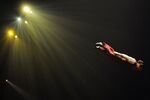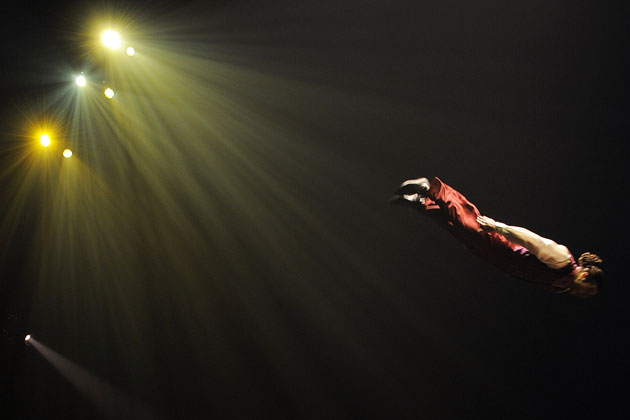 A death cast a pall over the international circus juggernaut Cirque du Soleil on Saturday night, when Sarah Guyard-Guillot, an aerial acrobat in the "Ka" production at Las Vegas's MGM Grand slipped free from her safety harness and dangled briefly before falling more than 50 feet. The death of the 31-year-old French performer, a two-decade circus veteran, marks the first ever for the Montreal-based organization. It was founded in 1984.
Following the news, Cirque du Soleil's founder and former stilt-walker Guy Laliberté issued a statement: "I am heartbroken. I wish to extend my sincerest sympathies to the family. We are all completely devastated with this news. … We are reminded, with great humility and respect, how extraordinary our artists are each and every night. Our focus now is to support each other as a family." The circus also mentioned that they are "working with the appropriate authorities" as they investigate the incident, which would appear to be attributed to a mechanical failure.
The death comes at an unfortunate time for the circus, a reportedly $1 billion company which employs 5,000 people globally, including 2,000 at its headquarters in Montreal. Cirque maintains around 19 touring productions in operation worldwide, including the recently launched "Michael Jackson ONE" at the Mandalay Bay in Las Vegas, in which a cast of 63 performers tumble, dance, and flash their signature aerial acrobatics to a Jackson playlist. The sagging economy has taken some of the magic out of Laliberté's empire: In January, Cirque du Soleil announced that it was laying off 400 employees.
"The Cirque is not in crisis," said spokeswoman Renée-Claude Ménard after the announcement, but she also mentioned that the company had not turned a profit in 2012. Production costs had spiraled out of control, she said, which was compounded by a weak U.S. dollar. Ménard claimed that, on the whole, Cirque du Soleil was affected by $3 million for every cent the Canadian dollar gained on its U.S. counterpart. "We are now in the process of reviewing within the company worldwide all of our expenses to ensure that we decrease them significantly," Ménard said. The circus laid off 50 employees in the previous year.
It remains to be seen how a death will ripple through the constellation of productions and how this will affect future ticket sales. But danger is the whole point, after all, and the show must go on. But not for "Ka," at least for now. According to the Cirque du Soleil, "performances … will be canceled until further notice."
Before it's here, it's on the Bloomberg Terminal.
LEARN MORE