Mursi's Opponents Mass in Egypt's Streets in Protest
Mariam Fam, Tamim Elyan and Nadine Marroushi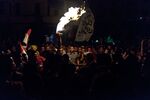 Opponents of Egyptian President Mohamed Mursi marched in the hundreds of thousands on the first anniversary of his taking office yesterday, seeking to oust the Islamist leader they say has betrayed their movement for change. At least five people were reported killed.
Mursi's critics remained early today in Tahrir Square, epicenter of the 2011 uprising, and outside the presidential palace in Cairo to protest what they say is a looting of power by the Muslim Brotherhood, from which Mursi hails. His supporters, some wielding makeshift shields and sticks they say are for self-defense, vowed to protect Mursi's leadership, saying it derives from the election that made him the country's first democratically chosen civilian president.
The dueling rallies were the culmination of polarization that has sparked bouts of violence and helped send economic growth plummeting to one of the lowest points in two decades. Unrest in the run-up to June 30 claimed at least eight lives and left Egyptians anxious about what to expect next.
"There's a good scenario that could happen, which is for the president to recognize that his rather unilateral approach has created a big political crisis and that he would need to offer some compromises," Yasser el-Shimy, a Cairo-based analyst with the International Crisis Group, said. "The worst- case scenario, however, is if the big turnout induces the opposition to" insist "that Mursi must leave immediately."
Such a departure was unlikely, he said, and "a lot of this is going to depend on how sustained the momentum can be."
Biggest Challenge
The demonstrations are the biggest challenge Mursi has faced. The military warned last week it won't let the nation descend into chaos.
One person was killed in an attack on a protest in the city of Beni Suef, south of Cairo, while another died in Alexandria, the state-run Middle East News Agency said. Three others were killed in Assiut, Upper Egypt, the state-run Ahram Gate reported. At least 253 people were injured in different provinces, MENA said, citing the Health Ministry.
In Cairo, at least 36 cases of mob sexual assaults were reported in Tahrir Square by the Operation Anti-Sexual Harassment group. The Muslim Brotherhood's headquarters in the city's Moqattam district was attacked by about 500 protesters armed with Molotov cocktails and set on fire, MENA said.
Markets Roil
Egypt's financial markets have reflected the ferment. The benchmark EGX 30 stocks index slumped 13 percent in June. The country's default risk soared to a record 888 basis points last week, putting Egypt among the riskiest 10 credits in the world, according to data compiled by Bloomberg.
The EGX 30 added 1.4 percent yesterday, though the 148 million Egyptian pounds ($21 million) of shares traded equaled only 38 percent of the market's one-year daily average, according to data complied by Bloomberg.
"I am protesting because I found no bread, freedom or social justice in our country," 35-year-old Marian Makram said, repeating some of the main demands of the 2011 revolt that unseated Hosni Mubarak. "Everything is going from bad to worse. At home, there are power cuts. On the streets, there is no gas and no security. Enough," she said, waiving a red card outside the Ittihadiya palace reading "leave."
Opponents turned concrete barriers outside the presidential complex into a canvas for graffiti. "The revolution is continuing," read one scribble. "No to the Brotherhood," declared another.
A Failure
Across town, in Tahrir Square, Ayman Mohamed, who is 40 and unemployed, said Mursi's management has been a "failure." "All what we have done is move backward, and he doesn't seem to have a plan," he said. "If I had a good job and was treated with respect, why would I have protested?"
The National Salvation Front opposition bloc said the legitimacy of the regime has fallen and that it has no choice but to leave immediately. It called for protests to continue and said Egyptians should strike.
The demonstrations cap weeks of surging anger amid an economic crisis that has sent unemployment soaring beyond 13 percent and foreign reserves dropping by more than half since the uprising. Fuel shortages have sparked long lines at gasoline stations, clogging streets and feeding anger at Mursi.
Presidential spokesman Ihab Fahmy urged protesters to remain peaceful to avoid civil strife. "The right to peaceful protest is guaranteed to all, but violence, killing and sabotage are highly condemned," he said at a news conference. "The state won't treat law-breaking lightly."
Way Out
Fahmy said dialog was the way out of the crisis. Mursi's critics have spurned such calls, saying the government wasn't serious.
As Mursi's opponents -- an amalgam of secularists, youth activists, former regime supporters and Egyptians frustrated with the stumbling economy -- converged on Tahrir Square and elsewhere in the country, his supporters rallied in the capital's Nasr City district, not far from the Ittihadiya palace.
Some manned entrances, checking IDs and frisking those on their way in. Others chanted: "Islamic, Islamic," and "There is no god but God; we are the soldiers of God."
They say the president won a democratic election and any change must come through the ballot box.
"The president was chosen by the people," 48-year-old Mohamed Farag said. "He must complete his term. At the end of the term, the ballot box will be the arbitrator, and we will accept the result even if it brought us a Christian."
Fair Chance
Mursi, he said, wasn't given a fair chance after taking over "a ruined country, rife with corruption."
Mursi has offered similar arguments in rejecting calls for an early presidential vote.
If Egypt were to replace someone elected "according to constitutional legitimacy -- well, there will be people or opponents opposing the new president too, and a week or a month later, they will ask him to step down," Mursi told Britain's Guardian newspaper in an interview published yesterday.
The president and his supporters blame the nation's plight on frequent protests and the opposition's rejection of dialog.
The opposition has been encouraged by the 22 million signatures the Tamarud, or Rebel, campaign maintains it has collected demanding Mursi's ouster. His critics have also taken comfort in the defense minister's warning last week to protect Egypt from chaos. Mursi told the Guardian newspaper that he was "very" confident the military wouldn't intervene.
Tensions in Egypt have resonated abroad, with U.S. President Barack Obama saying he's monitoring protests "with concern" and that his "most immediate" priority is making sure U.S. embassies and consulates are protected. A U.S. citizen, Kenyon College student Andrew Pochter, was among at least three people killed in Alexandria on June 28.
Before it's here, it's on the Bloomberg Terminal.
LEARN MORE