NYC Weekend: Kurt Vile, Salsa Dura, White's Butterfly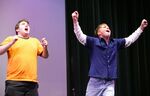 The festivals taking over the city, PS1's Warm Up and the Stravinsky phantasmagoria at the New York Philharmonic are among Muse weekend highlights.
NIGHT LIFE
The Del Close Marathon runs from Friday through Sunday bringing improv groups to NYC from around the world. There will be 420 shows on 7 stages to honor the driving force behind the Chicago comedy scene that produced Bill Murray, Tina Fey and the Upright Citizens Brigade. Information: http://delclosemarathon.com.
Kurt Vile and the Violators headline the 4Knots Music Festival on Pier 17 at the South Street Seaport. Joining are The Men, Parquet Courts, Marnie Stern and upcomers The Babies and Heliotropes. Produced by the Village Voice, the free fun starts at 1 p.m. The after party with Lil B and guests is at the Music Hall of Williamsburg, 66 North 6th St., Brooklyn. Information: http://microapp.villagevoice.com/4knots/2013.
OUTDOORS
The annual Gay Pride March begins Sunday at noon on Fifth Ave. and 36th St. and proceeds south to 8th St. before turning onto Christopher Street. Lesbian divinity Edith Windsor, fresh from her great Supreme Court triumph, will be out in front. The parade, always a festive event with costumes and floats, should be especially jubilant this year. A dance on Pier 26 with Cher and Deborah Cox closes the festivities. At Hudson River and N. Moore St. Information: http://www.nycpride.org/events.
Join the dance at Lincoln Center's Midsummer Night Swing. Friday it's hard-hitting salsa dura with the Spanish Harlem Orchestra, while Saturday brings grande dame Calypso Rose. Take lessons at 6:30 p.m. Music starts at 7:30 p.m. The 25th season runs through July 13 at Damrosch Park, Lincoln Center. Information: http://midsummernightswing.org.
Check out the scene at MoMA PS1's Warm Up 2013, which begins its 16th season on Saturday. Held in the museum's courtyard, with an urban landscape called "Party Wall" designed by CODA, the series presents a wide spectrum of music from around the world. Heatsick and Bill Kouligas from Berlin, Lee Gamble from London and NHK'Koyxen from Osaka join Detroit's Juan Atkins onstage for the opener. Runs through Sept. 7 at PS1, 22-25 Jackson Avenue, Long Island City. Information: +1-718-784-2084; http://www.momaps1.org/warmup.
MUSIC
Take a trip to the snowy Swiss Alps and a phantasmagorical Russian carnival in "A Dancer's Dream." Under the baton of Alan Gilbert, the New York Philharmonic plays Stravinsky's "The Fairy's Kiss" and "Petrushka," while NYC Ballet star Sara Mearns performs with puppets created by Doug Fitch and Giants Are Small. Expect video, live animation, film, theater and circus. Friday and Saturday at Avery Fisher Hall, Lincoln Center. Information: +1-212-875-5656; http://nyphil.org.
ART
Robert Irwin created his site-specific installation for the Whitney's Breuer building in 1977. "Scrim veil -- Black rectangle -- Natural light" is back on view on the museum's fourth floor. Runs through Sept. 1 at 945 Madison Ave. Information: +1-212-570-3600; http://whitney.org.
Have fun at "The Bruce High Quality Foundation: Ode to Joy, 2001-2013" at the Brooklyn Museum. The arts collective, formed to "foster an alternative to everything," was named after fictional artist Bruce High Quality, who supposedly died on 9/11. The subversively entertaining group has sent up the art world in works such as "Isle of the Dead," which portrays its demise and zombie-led revival. Runs through Sept. 22 at 200 Eastern Parkway, Brooklyn. Information: +1-718-638-5000; http://www.brooklynmuseum.org.
FESTIVALS
The River to River Festival is under way with 150 events at 28 sites in lower Manhattan. There's "Roadside Attraction," a dance-theater show in a pop-up camper with lawn chairs and picnic table that depicts a 1970s family on vacation. It's produced by Third Rail Projects (the creators of the abandoned-hospital event "Then She Fell") at 220 Vesey Street, where it runs through July 2. The Festival itself runs through July 14. Information: http://www.rivertorivernyc.com.
The Celebrate Brooklyn! Performing Arts Festival brings musicians to the Prospect Park Band Shell. Friday has South African choral group Ladysmith Black Mambazo with Aurelio Martinez, while on Saturday you can hear Brazilian Tropicalia pioneers Os Mutantes. Presented by BRIC Arts, the festival runs through Aug. 10 Information: +1-718-683-5600; http://bricartsmedia.org/performing-arts/celebrate-brooklyn.
PERFORMANCE
The Civilians have a new installation performance piece called "Be the Death of Me," which takes a closer look at dying. Based on interviews with ER nurses, crime-scene cleaners and others who are in at the finish, the work takes place in an old church in Fort Greene. One observer points out that if you don't have a lot of money, you're probably going to be buried in New Jersey. Runs Friday and Saturday at the Irondale Center, 85 S. Oxford St., Brooklyn. Information: +1-718-230-3330; http://www.thecivilians.org.
DINING
Swing by The Butterfly, a hat tip to the supper clubs of chef Michael White's native Wisconsin. The Tribeca restaurant, which opened earlier this week, serves $17 patty melts, $23 fried chicken and $24 wild striped bass. Have a cocktail at the 20-foot bamboo-sheathed bar. At 225 West Broadway. Information: +1-646-692-4943; http://thebutterflynyc.com.
(Zinta Lundborg is an editor for Muse, the arts and leisure section of Bloomberg News. The opinions expressed are her own.)
Muse highlights include Lewis Lapham's podcast and Greg Evans on movies.
Before it's here, it's on the Bloomberg Terminal.
LEARN MORE