Nothing's Quiet on the Bond Front
by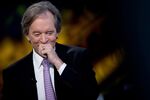 Volatility and dislocation: all the rage these days in the taper-spooked bond market.
Witness the record $61.7 billion of redemptions in U.S.-listed bond mutual funds and exchange-traded funds through June 24, according to TrimTabs Investment Research. That sum broke the previous monthly high of $41.8 billion, set in the scary days of October 2008.
"The unprecedented liquidation of bonds this month is a dramatic departure from recent trends," David Santschi, chief executive officer of TrimTabs, said in a statement. "Before June, bond funds had posted inflows for 21 consecutive months."
In May, Bill Gross's Pimco Total Return Fund—the world's largest—saw its first monthly withdrawals since 2011. The fund is down 4 percent this year, trailing 93 percent of rivals.
"In trying to be specific about which conditions would prompt a tapering of quantitative easing, the Fed tilted over-risked investors to one side of an overloaded and over-levered boat," Gross said in his July commentary. "Don't panic," he wrote.
Dislocation abounds in the world of high-yield debt, where for the first time since August junk bonds are trading below par on worries that issuers will have a harder time meeting debt payments. The average yield investors demand to own the bonds is 6.81 percent, compared with this year's low of 4.61 percent on May 9, according to the Bloomberg Global High Yield Corporate Bond Index.
Junk's pullback "is justified because it was overvalued previously," says Martin Fridson, CEO of New York-based FridsonVision, a bond research firm. "It requires some shock to get it back to fair value."
Also whipsawing is the otherwise sleepy $3.7 trillion municipal bond market, where the largest exchange-traded fund tracking the sector had its best two days since 2008 after falling to the cheapest price in two years. The $3.4 billion iShares S&P National AMT-Free Municipal Bond Fund, known as MUB, sold at a record 2.86 percent discount to the value of its assets on June 21 after Federal Reserve Chairman Ben Bernanke said the central bank may moderate purchases of federal and mortgage debt in 2013 and stop them around mid-2014.
The ratio of the yield of munis to those on Treasuries is about 115 percent, the highest since July 2012.
And you thought bonds were boring.
Before it's here, it's on the Bloomberg Terminal.
LEARN MORE