McDonald's Feels Heat in Israel After Shunning West Bank
by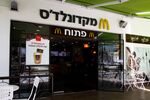 McDonald's prefers to serve its burgers without politics. But the company now finds itself on the front lines of a heated dispute over investment in Israeli-occupied territories, after its licensee in Israel refused to open a restaurant in a West Bank settlement.
Rami Levy, who is developing a shopping mall in the West Bank settlement of Ariel, told Bloomberg News that the licensee declined to open an outlet in the mall because it is on land captured by Israel in the 1967 Arab-Israeli war. The licensee, Omri Padan, is a co-founder of Peace Now, an Israeli group that opposes Jewish settlements in the occupied territories.
"Our partner in Israel has determined that this particular location is not part of his growth plan," a spokeswoman at McDonald's U.S. headquarters tells Bloomberg Businessweek.
Not surprisingly, the decision sparked anger in Israel, with the mayor of Ariel calling it "The Big McInsult."
Some called for a boycott of the fast-food giant's other Israeli outlets.
McDonald's isn't the only multinational caught up in the controversy. Activist groups have called on corporations to close their operations in the occupied territories and have asked consumers to boycott products made by companies that remain.
Some companies have already moved out. Assa Abloy, a Swedish manufacturer of locks, shut down a factory in the Ariel settlement in 2008 and moved it to a plant within Israel's pre-1967 borders. "It was not seen as appropriate to have a factory there," says Ann Holmberg, a company spokeswoman.
Anglo-Dutch consumer giant Unilever last year shut down two snack-food production lines in the Ariel settlement and relocated them to a factory elsewhere in Israel. A company spokesman did not immediately reply to a request from Bloomberg Businessweek to explain that decision.
Some Israeli companies with international brands are also coming under pressure. SodaStream, an Israeli manufacturer of home soda-water machines, has been targeted by a boycott campaign because its main factory is in the occupied territories. A SodaStream spokesman declined to discuss the issue with Bloomberg Businessweek.
Opponents contend that such actions not only hurt Jewish settlers but also Palestinians in the occupied territories who risk losing their jobs. That's the view of Levy, who heads a supermarket shopping chain and is developing the Ariel mall with Israeli company Mega Or Holdings. McDonald's, he told Bloomberg News, is "making a mistake. Business serves the interest of both peoples because it gives them jobs."
Before it's here, it's on the Bloomberg Terminal.
LEARN MORE