business
JetBlue Founder Has No Interest in Buying His Old Airline
By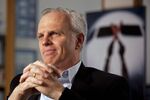 David Neeleman, the serial airline entrepreneur who founded JetBlue Airways, says he's not plotting to acquire his former company as part of a larger scheme to build a new international carrier for Brazil. Not that he doesn't think his own Brazilian upstart, Azul, could one day become a major international player.
"We haven't ruled out Azul expanding internationally at some point in time," Neeleman said today in a telephone interview. "That doesn't mean we buy JetBlue."
In an intriguing report, the Folha de S.Paulo newspaper said today that Neeleman—who was ousted as JetBlue's chief executive officer six years ago and is now the head of low-cost Brazilian carrier Azul Linhas Aéreas Brasileiras—is assembling an investment fund to acquire both TAP, the financially ailing Portuguese airline, and JetBlue. Brazil's development bank, according to the report, would contribute $600 million for a 20 percent stake of the fund, with the hope of creating a Brazilian carrier that could compete on the international stage.
A trio of U.S. airlines—United, Delta, and American—have been racing to capture the business-travel market for U.S.-Brazilian flights. (Neeleman makes a weekly commute on American between his office in São Paulo and his Connecticut home.) Meanwhile, Brazil's main international airlines, TAM and GOL, which owns the traditional Varig brand, have struggled with profitability in recent years.
JetBlue spokeswoman Tamara Young said the airline doesn't comment on "rumors or speculation" and is focused on building its business independently. Private equity firm TPG, an investor in Azul, declined to comment. JetBlue Chairman Joel Peterson, a Stanford University business professor, is also an Azul investor. He declined to comment, through a spokesman.
JetBlue, the sixth-largest U.S. airline by market share, remains a bit of an outlier as the U.S. airline industry has consolidated in quick fashion since the company's 1998 founding. With American poised to merge with US Airways later this summer, Southwest, JetBlue, and Alaska remain the largest independent players. JetBlue shares rose more than 7 percent early today on news of the rumored merger with Azul, before giving up some of the gain, closing at 3.5 percent higher. The stock has risen about 9 percent this year.
This week, Azul delayed its initial public offering in Brazil amid market turmoil. Neeleman said the IPO isn't necessary to raise operating cash but for investors who have been waiting five years for a return. Neeleman started the airline in 2008, the same year he left JetBlue as chairman. He was born in Brazil and holds citizenship there and in the U.S. He was terminated as JetBlue CEO in May 2007, three months after a blizzard hit New York City and paralyzed JetBlue's operations for several days, leading to thousands of stranded passengers and a major public-relations nightmare for the company.
In the press release announcing his departure, Neeleman described the move as "a natural evolution of our leadership structure as JetBlue continues to grow." But in talking with him, it's clear the episode still rankles him and he considers his dismissal a mistake by the airline's board, even as it led him to start an airline in a country that was lacking a low-cost air alternative to multi-day bus trips for many Brazilians.
As for Azul's future expansion, Neeleman said the airline isn't ready to consider long-haul flights beyond Brazil or the intricacies of assembling some kind of operation with a U.S. carrier. "I wouldn't say never, but I do have doubts about the value of JetBlue," he said. "It's a much different company than it was six years ago when I was removed as the CEO. There's been a lot of issues at JetBlue, and I feel bad for the people who work there, but the leadership just hasn't been good." (JetBlue did not respond to a call or e-mail about Neeleman's remarks.)
In December, Portugal suspended its efforts to sell TAP as part of the terms of its $110 billion bailout package from the European Union after receiving a bid from TACA, the Latin American airline, that was considered too low. TAP's heavy schedule of flights to Brazil is among its primary assets. Neeleman said the Brazilian government is keen to see TAP survive because it is the only international service for many northern cities. "They have come to us in the past about [buying] TAP," he said, adding that he does not want the "mess" of a European airline involved with his own "clean" company.
Before it's here, it's on the Bloomberg Terminal.
LEARN MORE