business
How to Charge More Than Competitors
By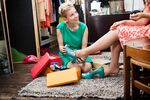 Question: How does one try to sell a product for which there are several types on the market at different price points? I can't offer the lowest price and don't really want to compete on price.
Answer: As a small business owner, you probably can't compete on price, especially if you have much larger competitors that can do far greater annual sales volume than you can. The good news is that you don't have to compete on price.
What you must do is make your customers aware of the unique selling points that make your product a better value for them. Start by clearly defining who your ideal customer is, whether you are selling directly to the public or to businesses. What challenges do they face? What features are they looking for? What size company are they—and in what industry?
"A price buyer will always be a price buyer. You can recognize them a mile away. If they want you to lower your price–don't," says Joanne S. Black, founder of sales training company NoMoreColdCalling.com in Greenbrae, Calif. "Set yourself apart by engaging in productive and relevant conversations with your buyer. Reaffirm their [return on investment] and the impact on their business. Be willing to walk away."
One major advantage of a smaller company is the ability to be closer to its customers and to enhance or change products based on their feedback, says Ron Volper, managing partner at Ron Volper Group, a sales consultancy in White Plains, N.Y., and author of Up Your Sales In a Down Market (Career Press, 2012).
"Can you imagine the impact a smaller company can have if it calls up the customer and asks, 'How are you enjoying your product? Anything I can do to improve the experience of your next order or product?' A lot of small businesses can leverage that relationship-driven model by changing the sizes, colors, shapes, or weights of their products quickly, due to changes in customer tastes or needs," Volper says.
Other things to keep in mind that will help mitigate your higher price point include ease of ordering; a quick and easy to navigate website experience; making sure you take all forms of payment, including checks and credit cards; and providing discounts for prompt payment if you are selling in bulk to businesses.
Since you will probably be charging more than some of your competitors, you must make sure you have a clearly articulated return-and-guarantee policy that should be easily understood and perceived as fair or even generous, Volper says. Smaller companies often face stumbling blocks over inventory availability, as well as long waits for shipping or customer service—two things you must avoid in order to be successful.
"The three major things customers are looking for are reliability, responsiveness, and respect. Very few customers say 'no rush.' They want you to pick up the phone immediately and they want the product in their hands quickly," Volper says. "In terms of respect, they want to know that you care about them, respond with empathy to their complaints, and think of them as more than just one more order."
If your company can provide a personal touch—such as a sales person who knows their name when they call to reorder—you won't need to have the lowest price. "Customers have choices across the street or across the globe, but they still like having a relationship," Volper says.
For a more in-depth discussion of this topic, Black recommends a classic, The Discipline of Market Leaders (Perseus Books, 1995). It discusses the option of being a low-cost provider or employing alternative strategies. "It's a good read," she says.
Before it's here, it's on the Bloomberg Terminal.
LEARN MORE