Even Nike Can't Outrun Japan's Abenomics
by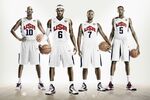 Nike beat Wall Street expectations yet again yesterday on strong demand for its LeBron basketball sneakers, Dri-FIT running clothes, and Fuel biometric tracking bracelets. But the apparel giant couldn't outrun Japanese Prime Minister Shinzo Abe.
Abe's aggressive stimulus plan to end 15 years of deflation—and the plummet it triggered in the yen—weighed heavily on Nike results. In the three months ended May 31, the yen shed almost 10 percent of its value against the dollar. Not surprisingly, Nike's Japan revenue fell by 11 percent in that time to $214 million. "There's a lot of currency headwind in these numbers," Nike's chief financial officer, Donald Blair, said in a conference call late Thursday.
Ironically, demand for Nike gear was running strong in Japan: At last year's exchange rate, sales would have grown 4 percent. And the one-country, currency-related slump did little to derail overall results for the sportswear giant. Nike posted $668 million of income for the quarter, a 22 percent improvement from a year earlier, and its sales worldwide surged 7.4 percent to $6.7 billion.
But the Japanese results present a cautionary tale for chief financial officers at any global retail brand. Hedging for exchange-rate shocks is just as important as keeping a tight supply chain, staying current on fashion trends, or having the latest technology. And even an aggressive hedging program like Nike's sometimes isn't enough to offset massive moves in monetary policy.
Nike gets almost 60 percent of its revenue from outside North America, and the company is no rookie when it comes to currency risk management. It hedges up to two years in advance with futures contracts to buy and sell baskets of euros, British pounds, and yen, according to filings with the Securities and Exchange Commission. It also has its foreign subsidiaries plow excess cash into dollar-denominated investments.
The company went a step further last year with the launch of a program to realize "natural offsets" of currency costs. The specifics are intricate, but basically Nike adjusts its internal payments to its foreign factories based on how much those factories are spending in their local currency for labor and materials. "Our ability to sort of work the operational and financial levers to make the adjustments that we need to—in light of some of the more macroeconomic challenges—I mean that's never been better," Nike Chief Executive Officer Mark Parker told investors yesterday.
Nike may be better at working the levers, but its levers are still tiny compared with those being yanked around in Japan.
Before it's here, it's on the Bloomberg Terminal.
LEARN MORE