A-Rod and the Awkward Subject of Insurance Fraud
by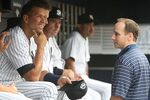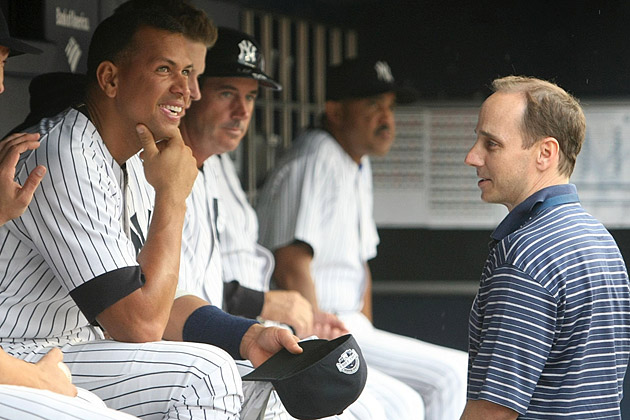 Suffice it to say, it's been a tense week for the New York Yankees and the club's controversial star, Alex Rodriguez. It all started when the third baseman and erstwhile dugout playboy, while in Florida nursing a hip injury, fired off an upbeat tweet on Tuesday evening declaring that he had been cleared to play by his doctor. As it turned out, however, Rodriguez wasn't cleared to play by the organization's chain of command, medical or otherwise. Clearly miffed, Yankees General Manager Brian Cashman snapped to a reporter that A-Rod "needs to shut the fuck up."
Strong words directed at an aging superstar with $114 million left on his contract, who has mostly generated headlines this season for his alleged connection to Biogenesis, the Miami-based anti-aging clinic that may have supplied testosterone to a lengthy roster of baseball players. A day after Cashman's comments, the Yankees said the matter had been smoothed over and the GM admitted his regrets about the episode. "I popped," he told reporters. "Reality TV at its best. … We want to control the message and when. We want Alex back. That's not an issue."
But as with all things A-Rod, the story and its big-money stakes gained momentum in the media. ESPN reported on Rodriguez's fears that his team is plotting to keep him off the field and have him declared injured for the season—triggering a potential insurance claim that could defray the burden of his $28 million annual salary. The club, for its part, denies it is scheming to commit insurance fraud. On June 27, the New York Daily News ran a story suggesting that A-Rod's actions can be attributed to Major League Baseball's investigation into his connection to Biogenesis. On this theory, as the the Daily News explained, A-Rod is allegedly trying to get a rehab stint just so he can be declared medically unfit to play and thereby claim the remainder of his guaranteed contract—all before the investigators, circling in tightening gyres, close on him.
So what is really going on here? "You can have all the conspiracy theories you want, but the Yankees are not getting insurance relief if he's healthy, and they're not getting out of his contract," says Jim Bowden, former general manager of the Cincinnati Reds and the Washington Nationals and currently a commentator for ESPN. "Yes, the best-case scenario for the Yankees is that the hip is ending his career as it did Albert Belle's, and they get insurance relief. But based on the medical information, it appears that that's not going to happen. So if you're the Yankees, you've got to hope Alex's hip is better and he comes back and he's good. Because they're not getting out of the contract."
Unless A-Rod is arrested for a crime, says Bowden, he's going to be paid the amount on his contract. "In terms of Biogenesis," he adds, "even if they end up suspending him—and based on everything we're hearing, it sounds like a real possibility—the Yankees might get 50 or 100 games with a relief of pay, but that's all they're going to get."
As for Cashman's outburst, fans shouldn't try and read too much into it. "I kind of chuckled, because there are times when every GM would like to say that to a player," says Bowden. "But my take is that they got him at the wrong time. When you're a GM and you've got the albatross of Alex's contract that you're going to have to live with for the rest of your career, it's frustrating. To then have him join Twitter after all of the sideshows—Alex Rodriguez is the ultimate GM headache—I think that Brian, in a moment of weakness, just lost it."
Before it's here, it's on the Bloomberg Terminal.
LEARN MORE