Should Dish, the Spurned Suitor, Try for T-Mobile?
by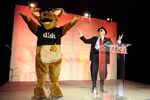 Give credit to Charlie Ergen. The Dish Network chairman and co-founder waged a spirited fight to acquire wireless provider Sprint Nextel. But now that SoftBank has all but landed Sprint, Dish will have to decide whether it wants to make a run at T-Mobile, the nation's fourth-biggest mobile carrier—and perhaps Dish's last chance to enter the sector.
"If Charlie does want to go into wireless and he's hell-bent on doing it, it certainly looks like T-Mobile is the only option left on a national scale," Chris King, an analyst at Stifel Financial, told Bloomberg News. "The pay-TV business in the U.S. is shrinking. That will almost certainly continue to be the case. It's not good being essentially 100 percent exposed to that." In another report yesterday, J.P. Morgan analyst Philip Cusick wrote: "While [SoftBank-Sprint] closes one potential avenue for Dish, we believe that an acquisition of T-Mobile remains a possibility and is the most likely next step."
T-Mobile won't come cheap. Its market value is $16 billion, compared with Dish's $18 billion. But the latter needs growth from diversification into the wireless-subscriber business. Dish's revenue is on track to grow about 10 percent to 2015 from last year, according to analyst estimates compiled by Bloomberg. That lags the average growth rate of 35 percent for global cable and satellite companies with market values of more than $1 billion.
Dish informally approached T-Mobile parent Deutsche Telekom about a possible merger with the wireless carrier before T-Mobile bid for MetroPCS, people familiar with the matter said in April. Deutsche Telekom Chief Financial Officer Timotheus Höttges said last month that the German telco retains the option to sell its T-Mobile stake to a third party before an 18-month share lockup period expires.
Ergen has been spreading bets across the wireless sector. In addition to buying up valuable spectrum, Dish is working with rural mobile-phone provider NTelos Holdings on high-speed Internet technology. It offered $2 billion for wireless airwaves owned by bankrupt LightSquared (LightSquared hasn't acted on the bid) and competed with Sprint for wireless broadband provider Clearwire.
Without a T-Mobile deal, Ergen could well sell his wireless airwaves. In February, he said he would "hang a 'for sale' sign on the spectrum" if he didn't partner with a wireless company. Stifel's King sees AT&T as a motivated buyer. "If he sells the spectrum for a huge profit, I'm not necessarily sure shareholders view that as a bad thing," he says. "That's probably the best case for Dish shareholders, certainly in the near term, if they're able to get a nice premium for that spectrum."
Another wildcard: Sell Dish outright to AT&T.
"Our spectrum today would be available to Verizon, AT&T or T-Mobile," Ergen said at Dish's May shareholders meeting. "It could end up being a partnership, it could end up being a sale of Dish or it could be that we acquire AT&T." "We might," he quipped, "be a couple hundred billion short for AT&T."
If all else fails, Dish might have no choice but to sell to satellite rival DirecTV. The merged company would have 34 million U.S. TV subscribers, giving it big bargaining power with programmers. But regulators frowned on such a plan a decade ago. And Ergen himself has expressed curbed enthusiasm for a pure-video deal, however synergistic it may be. "If you want to win, you better be all in," the former pro gambler remarked last month. "This company is all in."
Before it's here, it's on the Bloomberg Terminal.
LEARN MORE