New Balance Wants a Toehold Among Army Recruits
By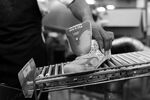 New Balance took a step forward in a long effort to become the sneaker supplier to U.S. military recruits. On June 13, the House of Representatives passed an amendment to the National Defense Authorization bill that would require "footwear provided to members of the Armed Forces upon initial entry be made in America." There is already a law, the Berry Amendment, that keeps the Department of Defense from buying foreign-made clothing to outfit troops. But as Bloomberg reported yesterday, the Army and other armed services have taken to issuing vouchers for items rarely made in the U.S., such as sneakers and women's underwear. New Balance, with the help of Maine Representative Mike Michaud, a Democrat, is pushing a legislative reminder to the Pentagon that it makes shoes here.
With roughly 225,000 recruits per year getting a shoe allowance of about $75, the boot camp sneaker market is relatively small. By New Balance's own estimation, the Pentagon spends $15 million annually on the vouchers. According to Matt Powell, an analyst who tracks the shoe market for SportsOneSource, New Balance makes about 35 million pairs of shoes each year—so a couple hundred thousand more for army recruits would amount to a less than 1 percent bump. Nike, which sold 150 million pairs in the U.S. last year, is probably not sweating any loss on this front.
Still, the potential benefit to New Balance goes beyond direct sales. Along with another chance to tout its patriotism, the company would get access to a group of consumers whose product recommendations carry extra weight. Good enough for basic training is probably good enough for personal training. "If New Balance had this stamp of approval, there would be some tangential business done as well," says Powell.
Recruits are also consumers still forming brand loyalties. Tobacco brands have a long history (pdf) of targeting service members. As a 2009 paper in Military Medicine notes, "[A]ctive duty personnel in the U.S. military are a desirable market for tobacco companies: people near the typical age of smoking uptake, entering an institution with high smoking prevalence. Military recruits skew toward some of the tobacco industry's prime targets: young adults, high school educated, and African-American."
New Balance wants a similar, less-sinister opportunity for a rolling product trial among 225,000 active young adults. And it has worked before. As the New York Times wrote in 2004, U.S. shoemaker Allen Edmonds "gained much of its following by providing the Army and Navy with shoes during World War II. Many men continued to wear the shoes for the rest of their lives."
Before it's here, it's on the Bloomberg Terminal.
LEARN MORE