Hong Kong Stocks Fail to Lure JPMorgan With Worst Developed Drop
Adam Haigh and Alan Wong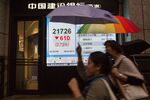 Hong Kong stocks are set for the biggest decline among developed markets this half as concern about China's economy drives valuations 22 percent below the five-year average.
The Hang Seng Index tumbled 9.8 percent in 2013, trailing the Standard & Poor's 500 Index by the most in 15 years and wiping more than $145 billion from the value of shares. The losses dragged the gauge's valuation to 9.7 times estimates earnings, compared with a five-year average of 12.5, according to data compiled by Bloomberg.
JPMorgan Asset Management and Goldman Sachs Group Inc. say Hong Kong stocks may get even cheaper as a manufacturing slowdown in China collides with the worst cash shortage in a decade. The waning outlook for the world's second-biggest economy is exacerbating declines spurred by the U.S. Federal Reserve's plan to dial back unprecedented stimulus measures.
"We'll wait for a better entry point," Grace Tam, a Hong Kong-based global market strategist at JPMorgan, which oversees about $1.5 trillion, said in a phone interview. "China's data continues to be weak. They're not going to do any stimulus because they now want to focus on structural reforms and controlling credit activity."
The Hang Seng Index's drop, the biggest among 24 developed equity markets tracked by Bloomberg, compares with an 12 percent climb for the S&P 500. That's the Asian gauge's worst relative performance since the first half of 1998, data compiled by Bloomberg show.
Losses accelerated this month after preliminary data showed a deepening Chinese manufacturing contraction and on concern surging money-market rates will derail the economy.
Biggest Declines
Goldman Sachs, Barclays Plc and HSBC Holdings Plc are among banks forecasting China's economy will expand 7.4 percent in 2013, below the government's 7.5 percent goal.
"The outlook for growth remains lackluster," Timothy Moe, joint head of economics, commodities and strategy research in Asia for Goldman Sachs, wrote in an e-mail June 26, saying he maintains a cautious view on Hong Kong shares.
Property and utility firms posted the largest declines this quarter. Industrial & Commercial Bank of China Ltd., the world's largest lender, slumped 13 percent since the end of March, rising on just three days in June. China Overseas Land & Investment Ltd., the largest mainland developer listed in Hong Kong, declined 9.1 percent in the same period.
Rally Reverses
Stocks traded in the city surged from September through the end of January, beating returns on the S&P 500 during the period, as central banks from the U.S. to Europe pumped cash into the global financial system. The Hong Kong Monetary Authority spent almost $14 billion from October through December to defend the local currency's peg to the greenback amid demand for assets in the city.
The Hang Seng reached the highest close in almost two years on Jan. 30, before beginning a 14 percent slide. Mainland firms make up more than half of Hong Kong's market value, according to Hong Kong Exchanges & Clearing Ltd.
The Hang Seng China Enterprises Index of mainland shares listed in the city dropped 25 percent since Feb. 1 to enter a bear market this month. The measure has given back all its gains since Sept. 13 when Federal Reserve Chairman Ben S. Bernanke pledged his central bank will buy bonds until the economy gets closer to his goals.
Declines steepened after interbank lending rates in China surged as the government and People's Bank of China clamp down on riskier lending.
The H-share gauge is trading at 6.8 times estimated earnings, 37 percent below its five-year average of 10.8, after this month touching the lowest valuation since the 2008 global financial crisis. This compares with 14.5 times projected profit for the S&P 500, according to Bloomberg data.
Supportive Valuation
"The valuation is supportive, assuming the PBOC will clean up any outstanding issues in the interbank market," Erwin Sanft, head of China and Hong Kong equity research at Standard Chartered Plc, said in a telephone interview June 25. "We should see a market rally."
The PBOC provided liquidity to some financial institutions to stabilize money-market rates and will seek to ensure steady markets, according to a statement posted to its website June 25. That was the first public confirmation of central bank action to ease a crunch that sent China's overnight repurchase rate to a record.
Premier Li Keqiang is seeking to wring speculative lending out of the nation's banking system after credit expansion outpaced economic growth.
"The PBOC has basically declared war on the shadow banking industry," said Michael Shaoul, Chairman and CEO of Marketfield Asset Management where he helps manage the MainStay Marketfield fund that beat 96 percent of its peers in the past five years, in a Bloomberg TV interview June 26. "I expect the PBOC to win that war. Unfortunately that's going to come at great cost to the domestic Chinese economy."
Before it's here, it's on the Bloomberg Terminal.
LEARN MORE