Economists Tackle Puzzle of Libor Losses for Investors
Keri Geiger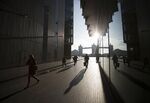 Paula Ramada, who has a doctorate in economics from the Massachusetts Institute of Technology, says she can calculate how much investors lost from banks' alleged rigging of benchmark interest rates. Now all she needs is funding, a team of analysts and weeks to run the numbers.
Ramada is among a growing number of mathematicians, analysts and researchers trying to tackle one of the toughest questions to emerge from the Libor scandal: If banks manipulated rates tied to $300 trillion in instruments such as mortgages and student loans, how much did it cost investors?
Investors suing banks to recover losses must quantify those damages, which some analysts have estimated will total billions of dollars. While regulators have uncovered e-mails between employees trying to rig the London interbank offered rate, the benchmark for more than $300 trillion of securities worldwide, it has been harder to show that investors actually lost money.
"The facts are pretty clear on the plaintiffs' side, but it's still an issue of proving damages," said Samuel Buell, a professor at Duke University School of Law in Durham, North Carolina, and a former lead prosecutor for the U.S. Justice Department's Enron Task Force.
As regulators in the U.S., Europe and Asia probe an expanding list of benchmark rates -- underpinning loans, currencies and even some oil products -- the difficulties individual investors face in calculating losses show why many may never be compensated. The math probably will depend on data from illiquid instruments, such as credit-default swaps.
'Accurate Records'
"You have to manually prepare the data and run it through a program," said Ramada, 45, who leads a team of researchers at London Economics, a U.K. consulting firm in talks with lawyers representing investors. "The problem comes when a company doesn't have accurate records on each and every interest-rate product, including when the payments were due."
Ramada and teams working for at least two other consulting firms tackled the Libor puzzle as banks began settling regulators' accusations that the rate was being rigged. For decades, a panel of global banks helped set the daily rate by estimating the premium they would pay to borrow from other firms. Watchdogs are examining whether bank employees gamed submissions to boost trading profits or downplay mounting funding costs during the 2008 financial crisis.
Attempted Manipulation
A year ago today, Barclays Plc became the first bank to resolve regulators' complaints that employees abused the system, saying it would pay 290 million pounds ($445 million). Zurich-based UBS AG and Royal Bank of Scotland Group Plc in Edinburgh later agreed to penalties totaling $2.1 billion.
The settlements provide evidence of attempted manipulation with e-mails and banks' internal records. At least a dozen more financial firms are still facing probes. Authorities haven't accused those companies of wrongdoing.
Libor-panel banks generally haven't forecast potential sanctions or lawsuits. Analysts' estimates vary. In a research note last July, Morgan Stanley said legal costs for individual banks may range from $59 million to more than $1 billion. In a separate report that month, Macquarie Group Ltd. said investors may have lost as much as $176 billion, and that banks ultimately might be forced to pay about half that amount.
Ramada's team, which has worked for antitrust agencies in the U.K. and the European Union, has helped assess damages in cartel cases, including ones involving elevators and marine hoses. She has a two-step approach to the Libor puzzle.
Credit Risks
First, she would reference other benchmarks to estimate what daily Libor rates would have been without rigging. If manipulation occurred, Libor would have diverged from benchmarks that track the cost of unsecured funding to banks, such as the Federal Reserve's Eurodollar deposit rate, as well as instruments linked to the firms' credit risks, such as credit-default swaps.
"Divergences from key benchmarks have been identified by several researchers and attributed to Libor manipulation," said Marc Vellrath, chief executive officer of economic consulting firm Finance Scholars Group Inc., based in Orinda, California.
His company also is developing a method for estimating Libor losses, and like Ramada's, is talking with plaintiffs' lawyers looking to quantify damages.
Vellrath, 61, preliminarily estimates Libor rates were probably 25 basis points to 35 basis points lower than they should have been from late 2007 through early 2009. A basis point is 0.01 percentage point.
'Liquid Market'
"The crucial point is to get the data," Ramada said. "It's difficult to determine if a liquid market for CDS transactions existed for each one of the 16 banks."
That information might be purchased from a third-party data provider, which may or may not have a complete set, she said.
The second step is to recalculate payments on specific contracts. For that, investors will need documents from their trades.
Last year, government watchdogs proposed a simpler approach that hasn't gained momentum. The Federal Housing Finance Agency's inspector general estimated that Fannie Mae and Freddie Mac, the U.S.-controlled mortgage-finance firms, lost a combined $3 billion. That analysis relied mainly on divergences from the Fed's Eurodollar deposit rate.
In March, Freddie Mac sued 15 banks including London-based Barclays and Citigroup Inc., without specifying what damages it suffered. The case was filed in federal court in Alexandria, Virginia, and later consolidated with others before U.S. District Judge Naomi Reice Buchwald in Manhattan.
More than a dozen lawyers representing banks in Libor cases either didn't respond to messages seeking comment or declined to discuss the case.
Liability Claims
Plaintiffs must prevail on liability claims to seek damages.
Some of those efforts were defeated in March when Buchwald dismissed more than two dozen interrelated antitrust claims by litigants, including pension funds and bondholders, who said banks conspired to set Libor at artificial levels. She allowed some commodities-manipulations claims to proceed.
Antitrust cases are attractive to plaintiffs because damages awards may be multiplied. Buchwald agreed with the banks, who had argued that plaintiffs failed to show harm stemming from anticompetitive behavior.
Other plaintiffs are pursuing fraud claims. Earlier this week, the Regents of the University of California filed an antitrust complaint in federal court in San Francisco against more than a dozen firms, including Barclays and Bank of America Corp., accusing them of fraud, deceit and unjust enrichment.
'Big Win'
"While the decision may be overturned or avoided, the panel banks scored a big win," said Susan Foster, a partner at Perkins Coie LLP in Seattle who advises potential claimants on how to proceed. "Antitrust allows plaintiffs to claim treble damages, and it is easier to certify a nationwide class than in, say, a fraud action. If the decision is affirmed, the potential exposure to banks has been significantly reduced."
There's another complication: Not every investment was hurt by Libor manipulation. Plaintiffs who show financial losses on one part of their portfolios also may have benefited on other positions, reducing total losses, said C. Bailey King Jr., a lawyer at Smith Moore Leatherwood LLP in Charlotte, North Carolina, who isn't representing Libor plaintiffs.
"This could be used as a defense tactic for the defendant banks," King said.
It's not clear whether plaintiffs will be able to focus only on their money-losing bets, he said.
Delay Payoffs
Disputes over damages can delay payoffs for years. A lawsuit against Household International Inc., now part of HSBC Holdings Plc, remains unresolved four years after a Chicago federal jury sided with plaintiffs. U.S. District Judge Ronald Guzman appointed a special master last year to help determine shareholder payouts. At a hearing last week, a lawyer for plaintiffs said HSBC is liable for about $1.5 billion.
Thomas Kavaler, a lawyer for London-based HSBC, told Guzman in 2009 that the jurors' decision was "fatally flawed and inconsistent" and that the plaintiffs' damages theory was "not legally permissible."
For now, models built by Ramada and Vellrath are in early stages. To get them ready for court, researchers need access to more data and testing, Vellrath said.
"These models will hold up in the vetting process, but it will take a lot of time and effort," Vellrath said.
The case is In re LIBOR-Based Financial Instruments Antitrust Litigation, 11-md-2262, U.S. District Court Southern District of New York (Manhattan).
Before it's here, it's on the Bloomberg Terminal.
LEARN MORE