A Washington Rarity Reappears: The Unanimous Senate Confirmation Vote
By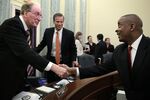 Who says the Senate is a gridlocked mess? Charlotte Mayor Anthony Foxx garnered the support of all 100 U.S. senators today to become the next secretary of transportation, the first such unanimous vote for a Cabinet secretary in more than two years. The vote could be considered even more remarkable, given that Foxx counts his new boss, President Barack Obama, as a personal friend. Foxx is expected to be sworn into office next week.
The Senate nearly notched a second moment of consensus with the approval this week of Chicago billionaire Penny Pritzker as Commerce Secretary when she sailed through on a 97-1 vote. The support for Foxx and Pritzker among Republican senators occurs at a touchy time for the minority party, which has been accused of obstructionism. Senate Majority Leader Harry Reid (D-Nev.), threatened "to force a change in filibuster rules that protect the minority unless Republicans ease their frequent opposition," the New York Times reported earlier this week.
After Pritzker's confirmation vote, a spokesman for Minority Leader Mitch McConnell (R-Ky.) tweeted that every one of Obama's cabinet nominees brought to the Senate had been approved. On Thursday the spokesman, Don Stewart, again noted the 100-0 vote with the sarcastic hashtag #Obstruction, pushing back against the notion that Republicans routinely block the president's picks. Two  Obama nominees still await a vote: Gina McCarthy, tapped to run the Environmental Protection Agency, and Thomas Perez, the pick to be secretary of labor.
Senate votes of 100-0 for Cabinet nominees are rare but not extraordinarily so. Leon Panetta was installed as secretary of defense in May 2011 on a 100-0 vote—a full decade after the last three such votes, which came during the George W. Bush administration, according to the Senate Historical Office.
Before it's here, it's on the Bloomberg Terminal.
LEARN MORE