Why Angie's List Hires an Auditor to Read its Business Reviews
by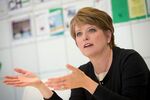 Here's a simplified version of the problem facing companies that make their bread by publishing local business reviews. Post too many positive notices, and you lack credibility with readers. Publish too many negative comments, and risk hampering ad sales. After all, you're probably counting on the same businesses that get reviewed for most of your revenue.
The reality is probably more nuanced—and it's not a new problem: Newspapers have been selling ads to the people they cover since the beginning of newspaper advertising. Still, a look at headaches endured by Yelp and Angie's List, two of the most prominent sites that post local business reviews, gives a sense of the thorny nature of the issue.
In 2010, Yelp was the subject of a class-action suit that charged the company with manipulating reviews to coerce local businesses into buying ads. The lawsuit was dismissed, but merchants continue to complain about the way Yelp decides which reviews to publish.
More recently, the investment firm Citron Research published a report (PDF) advising readers to bet against shares in Angie's List—which publishes consumer reviews on such local service companies as plumbers, roofers, doctors, and dentists—in part because Citron says the site's refusal to publish anonymous reviews leads to a preponderance of positive comments. (You could just as easily argue that anonymous reviews would allow competitors to bash each other without reprisal, or give way to planted positive notices. Damned if you do, damned if you don't.)
So what do you do? In the case of Angie's List, the company hires an outside auditor each year to certify its reviews "as a fair, impartial and trustworthy resource."
Then Angie's List puts out a press release about it. To that end, auditing firm BPA Worldwide reported in a letter released on Wednesday that it "found no variation in the processing or handling of member feedback for all service providers." What's more, "the audit reviewed and tested the controls in place by Angie's List to protect the reports and ratings against the risk of influence by employees with an interest in advertiser performance."
Whether you find that nod of approval convincing probably depends on how your business has been reviewed on Angie's List.
Before it's here, it's on the Bloomberg Terminal.
LEARN MORE