business
Want to Build the Next Pinterest? Focus on Great Design
By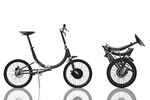 In the past decade, a number of Web startups tried to make a business of "social bookmarking" tools that let people save and share their favorite things on the Web. Few got very far, until Pinterest arrived in 2010. Pinterest's smooth design quickly became a hit, and the site is currently the 17th most trafficked in the U.S., according to Alexa, more popular than Instagram, Netflix, and CNN.
"The difference is they really nailed the interface," says Erik Hovanec, co-founder of a new design-focused accelerator in Pasadena, Calif. "They used a compelling design to make an emotional connection between the product and the consumer."
The Design Accelerator unveiled Tuesday is a bet that entrepreneurs can use that kind of connection to make winning products, whether they're websites, or consumer products, or medical devices. The program is a collaboration of the Art Center College of Design and the California Institute of Technology, both in Pasadena.
Startups in the accelerator must be affiliated with one of the schools—run by either students, graduates, or professors. Hovanec and co-founder Mark Breitenberg are still in the process of recruiting the first class. So far one company is working on electric bikes, another is looking into 3D printing for medical products, and a third is developing customized home decorations.
Accelerators are trendy now, and the Design Accelerator follows the familiar model. Housed in a nearby incubator called IdeaLab, the accelerator plans to recruit 15 startups a year, mentor them, and make small equity investments through an affiliated seed fund. Part of the motivation, Hovanec and Breitenberg say, is that art and design students were concerned about finding work after graduation.
The Design Accelerator employs jargon familiar from the TED Talk crowd (it's "aimed at helping startups grow by merging great design, cutting-edge technology, and business strategy to create innovation," the announcement says).
The venture is betting on creating more Pinterests. "There are lots of examples out there of companies where they sort of look at the world functionally," Hovanec says. "They had a design, but they didn't have a great design."
Before it's here, it's on the Bloomberg Terminal.
LEARN MORE