Ryanair's CEO Still Dreams of the $10 Transatlantic Flight
by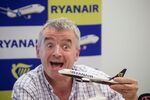 Michael O'Leary is back to musing on transatlantic flights. In comments that one may chalk up to his usual rhetorical, er, expansiveness, the Ryanair Holdings chief executive says he'd like to commence flights to America in a few years—and with $10 fares. The comments echoed those O'Leary offered at an infamous June 2008 news conference during which he claimed his long-haul operation would offer 10-euro ($13) fares in coach and truly exceptional customer service in business class. A quick stroll with the Ryanair boss down an off-color memory lane:
The business class would be very expensive. On a long-haul market … I don't believe long-haul, low fares, no-frills works. Because there's always going to be 10 or 15 percent of the market in long haul who will pay whatever it costs for a business-class service, wide seat, all that kind of stuff. So in economy it'll be very cheap fares, say 10 euros, and in business class it'll be beds and blowjobs.
Ryanair then issued a press release to tout the popularity of the online video of O'Leary's vision. Flash-forward five years, and those hypothetical U.S. flights are still tickling O'Leary's entrepreneurial fancy. "Unfortunately, the challenge is there's no availability of long-haul aircraft," he said this week on Bloomberg TV's Money Moves. Finding the right big jet is hardly the only challenge, as O'Leary surely knows. The costs involved with transcontinental flights would be the biggest hurdle. For proof, look no further than the moribund history of such efforts.
At least four credible low-cost operations have tried to offer flights across the North Atlantic—and all four have ultimately failed. There was the Skytrain service from Laker Airways in the late 1970s, which lasted for nearly five years with flights from London to New York, Los Angeles, and South Florida. Not long after Laker folded, People Express expanded its domestic U.S. operation with flights from Newark to London in the 1980s. In the 1990s it was Tower Air, started by an Israeli entrepreneur with nonstop flights to Tel Aviv, that started flying from New York to several European cities. More recently, Canada's Zoom Airlines flew from several Canadian cities to the U.K. and from New York to London for about a year, liquidating in late 2008.
A low-cost airline such as Ryanair or Southwest typically builds a cost advantage on rivals by flying its airplanes more often, an edge achieved by turning the jets around faster at airports. Ryanair and Allegiant Travel also eschew big-city airports like London's Heathrow or New York's JFK, which have higher usage fees, and turn to secondary airports farther from metro centers. North Atlantic flights would almost surely destroy both of those cost advantages, even if the famously no-frills Ryanair could sell a new business-class product. Long-haul flights don't offer a chance to load a jet multiple times per day, and flying to a remote town far from the tourist destinations could make even a cheapskate backpacker consider her other options.
Of course, the rapid consolidation of U.S. airlines and their closer alliances with European behemoths have already helped to send fares higher on routes across the Atlantic. The pending joint venture between Delta Air Lines and Richard Branson's Virgin Atlantic is likely to bolster that trend—the natural environment in which an upstart would be expected to ponder the business possibilities of new service. Sure, it could happen. But given the high and unpredictable cost of crude oil, the enormous physical constraints on airspace and landing slots at major U.S. and European airports, and the fact that few people choose to skip all the frills on long flights, the cards are rather stacked against a new entrant.
"I don't see a fit with what Ryanair's good at and what works on the North Atlantic," says Craig Jenks, president of Airline/Aircraft Projects, a New York-based consulting firm. At Ryanair—unless, presumably, you're in that hypothetical business-class, free-sex zone—"you get your very cheap flight and you just grin and bear the pain," he says.
Before it's here, it's on the Bloomberg Terminal.
LEARN MORE