Nordstrom: Old-School Department Store or Tech Incubator? Or Both?
by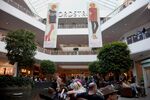 It's safe to say that every department-store company is scrambling to get e-commerce right—at least right enough to survive. They're updating websites, building apps, launching loyalty programs, and stretching their supply-chains to offer so-called omni-channel service, in which they deliver products for in-store shoppers and allow online shoppers to pick up their wares at a nearby store.
Nordstrom, a 112-year-old brand, is doing all those things, but it's also hitching its business model to a bunch of scruffy little startups that are already doing e-commerce well. For a giant department store company, these outfits—which are new and nimble enough to experiment and change tact quickly—essentially function as very inexpensive research and development.
Nordstrom's latest foray: a Web platform launched this week with Wantful, a spanking new startup looking to leverage e-commerce to change how people shop for gifts. The companies will share revenue from the new site, though both declined to detail the arrangement.
The collaboration may seem a bit odd. Nordstrom has 61,000 employees and 240 stores; Wantful has 14 employees and a slick website. But the potential upside is understandable. Wantful will get instant exposure to a wide swath of Nordstrom shoppers, a demographic that may not be tuned into the latest wrinkles of Web retail. Nordstrom will get access to savvy data collection, highly curated product lines, original content, and the rest of the Web mojo behind today's successful retail startups.
"We're trying new things and testing different capabilities," said Nordstrom spokesman Colin Johnson. "We think we can learn a lot here."
What's more, Nordstrom has bought an undisclosed stake in Wantful, essentially acting as an venture capital firm in an arrangement that no doubt lets it look further under the hood of Wantful's Web-shopping machine. Plus, if the site takes off a la Gilt Groupe, Nordstrom will have a piece of the profits.
You probably know how Nordstrom works. Here's how Wantful works: After users enter some information about who they are buying for and how much they would like to spend, the company sends the gift recipient a customized catalogue of up to 12 potential items to select from. Options range from old Polaroid cameras and iPad cases to lamb chops and charitable contributions.
This isn't Nordstrom's first foray into retail 3.0. In 2011, it spent $270 million to buy HauteLook, which sells clothes to members in "flash sales," online offers that expire within hours. Earlier this year, Nordstrom, which is trading near record highs on the stock market, struck a deal to offer on its wedding portal a collection of items from Etsy, an online marketplace for handmade and vintage crafts.
It also led a $30 million round of investment in Web retailer Bonobos after arranging a partnership to offer the startup's clothes in Nordstrom outlets. Additional investors in that deal were Silicon Valley kingmakers Accel Partners and Lightspeed Venture Partners.
"It's really happened organically," Johnson said of the e-commerce initiatives. "That sounds a little bit cliché[d], but we follow a customer-driven strategy here and … online is just a growing piece of that."
Wantful's founder and Chief Executive Officer John Poisson said he picked Nordstrom out of a number of big-box courters. He was impressed by the company's Bonobos partnership and its approach to technology, specifically its inventory-tracking system. "They're one of the iconic retail brands in this country, but they also have a really nuanced view of how to bring technology to consumers," Poisson explained. "It's a really nice fit."
Nordstrom's investment was Wantful's first fundraising since collecting a $5.5 million round from venture investors in March 2012, according to Poisson. He declined to share financial results but said the company "is on a pretty significant growth curve."
Though Nordstrom's Internet business is growing fast, online sales are still just 11 percent of its revenue.
Before it's here, it's on the Bloomberg Terminal.
LEARN MORE