Monsanto's Old Herbicide Pushes Up New Profits
by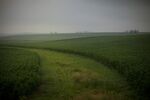 Monsanto has made headlines in recent weeks for the mystery surrounding the genetically modified wheat discovered in an Oregon field, a variety banned from the food chain and engineered to withstand the company's Roundup herbicide. And that stodgy old herbicide, a bit player in the rogue-wheat drama, turns out to be driving profits for the agriculture giant.
Retail prices for glyphosate—sold under various brand names by Monsanto, Bayer, Dow Chemical, DuPont, and others—have jumped more than 40 percent in the past year, to an average of $15.35 per gallon, as senior analyst Chris Shaw of Monness, Crespi, Hardt & Co., wrote in a research note this week. The increase has been driven largely by environmental regulators in China, who plan to inspect all the nation's glyphosate plants by 2015 to ensure regulatory compliance—an effort likely to curb worldwide supplies of the herbicide.
"We believe it's likely that some plants could be closed or at least temporarily shut down … supporting higher prices," Shaw wrote. "Thus we are beginning to believe the strength in glyphosate prices may be a multi-year event, benefitting Monsanto's earnings for the near future."
The weed killer dates to 1974, when a Monsanto scientist identified the process (pdf) by which glyphosate disrupts a plant enzyme needed for amino acid production, critical to plant growth. Agri companies subsequently developed seeds to make crops resistant to glyphosate, a process that included controlled tests of genetically modified wheat. Even though GMO wheat isn't supposed to be grown or sold commercially, it turned up in an Oregon farm this spring—mysteriously alive even after being sprayed with Roundup. The puzzled grower took the plants to Oregon State University, which discovered the cause of the herbicide resistance.
Monsanto lost protection on its last glyphosate patents 13 years ago, leading to Roundup knockoffs released by rival chemical suppliers under such brand names as Durango DMA, Honcho Plus, Kleenup, Landmaster II, Rodeo, Touchdown, and others. Yet Monsanto still has a huge crop-protection business. Sales in its agricultural-productivity unit rose $103 million, to $1.19 billion, in the last quarter, the suburban St. Louis company said today in its quarterly earnings release.
"The strength in glyphosate has helped gloss over what appears to be a somewhat tepid 3Q performance" by Monsanto's seeds unit, which has been hurt by poor spring planting weather and higher seed costs, Shaw wrote. And the so-called rogue wheat in Oregon? It has spooked farmers in the Northwest and sent tremors into the Asian import market for American wheat, but the issue didn't come up once on Monsanto's earnings call.
Before it's here, it's on the Bloomberg Terminal.
LEARN MORE