Canada Pursues Price-Fixing Chocolate Cartel
by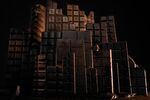 It seems the confectionery business isn't always sweet. Canada's Competition Bureau is pursuing what it calls a "price-fixing cartel" in the domestic chocolate industry that allegedly involves Cadbury, Hershey Canada, Nestlé Canada, Mars Canada, and ITWAL, a national network of independent wholesale distributors. The charges date back to 2008 and earlier. And as one observer has noted, this isn't Canada's first brush with sugary crime:
Hershey Canada pled guilty last week to price fixing in Canada and was fined C$4 million (US$3.8 million). The candymaker admitted that it conspired, agreed, or arranged to fix the price of chocolate confectionery products in Canada in 2007. It also acknowledged that senior employees communicated with other members of the alleged cartel "to exchange competitively sensitive pricing information about chocolate confectionery products in Canada" that year, according to the Competition Bureau. The investigation began in 2007 after Cadbury Adams Canada disclosed the offenses to receive immunity.
This will not be the end of the saga. Earlier this month, the Competition Bureau filed charges against Nestlé Canada, Mars Canada, and ITWAL, which have pledged to "vigorously defend" themselves. Canadian officials have also charged Robert Leonidas (former president of Nestlé Canada), Sandra Martinez (former president of confectionery for Nestlé Canada), and David Glenn Stevens (president and chief executive of ITWAL). The bureau alleges that executives met in restaurants and at conventions to discuss price increases, ranging from 4 percent to 8 percent, on both regular and seasonal (such as Halloween and Easter) chocolates, reports the Globe and Mail, citing court filings. The next court date is Oct.3, says Competition Bureau spokeswoman Gabrielle Tasse.
Complaints have been brought against the companies in other countries as well. In 2011, Cadbury paid $1.3 million to settle a class actions in the U.S. related to price-fixing allegations, though it denied liability. Earlier this year, 11 confectionery companies were fined €60 million ($81.4 million) for colluding to raise chocolate prices in Germany, though several said they will appeal the fine. "We believe that the Federal Cartel Office's allegations are not justified, and we fundamentally disagree with the way in which the authority has applied the competition act in this case," Nestlé spoekeswoman Nina Caren Kruchten wrote in an e-mail.
Before it's here, it's on the Bloomberg Terminal.
LEARN MORE