business
ZocDoc Wants to Fix Obamacare's Doctor Shortage Problem
By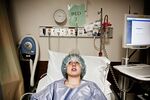 As many as 32 million Americans could enter the health-care system because of Obamacare, according to the Association of American Medical Colleges. The new patients created by the health-reform law, as well as a baby-boomer population that's aging into Medicare eligibility, are likely to leave the U.S. health-care system with a shortage of about 90,000 doctors by 2020, the group says. ZocDoc, the appointment-booking startup that yesterday announced $55 million in new funding, says it's part of the solution.
Whether you're familiar with the 400-employee company depends on where you live—and whether you've had occasion to see a medical specialist lately—but the idea is pretty simple. ZocDoc charges doctors to list openings in their schedules online, and allows patients to book appointments with the click of a button.
ZocDoc operates in more than 1,800 cities and towns and says it covers more than 40 percent of the U.S. population. In New York, where the company launched in 2007, the service is popular with busy professionals and ZocDoc zealots like USA Today columnist Michael Wolff. He used ZocDoc to book an appointment with an ear, nose, and throat man while his regular doctor was on vacation, and went home believing he'd seen the future of medicine:
"In no time, ZocDoc, or whatever mightier competitor emerges in the space, will itself become the most important brand and the unifying principle of the health-care system—with unchecked powers and the ability to bend the system to its own advantage."
To temper what might seem like hype, Wolff was writing about recognizing change and seizing the moment, and ZocDoc isn't alone in the doctor-finder field.
Chief Executive Officer Cyrus Massoumi used an online-travel analogy to describe his service when I visited ZocDoc's headquarters earlier this month: "Imagine there were thousands of small planes, and you had to call all of them one-by-one to book a flight." Listing the flights in one place improves the shopping experience and increases the chances that each plane will sell all of its seats.
Massoumi says ZocDoc, which has raised $95 million in venture capital, solves the same problem: Patients get better access to doctors—the company says the majority of appointments happen within 72 hours of booking—and physicians have an easier time filling holes in their schedules. "We believe we can add 10 to 20 percent additional capacity into the system," he says.
Before it's here, it's on the Bloomberg Terminal.
LEARN MORE