business
Shades With a Mission: Students Sell Sunglasses to Help Bomb Victims
Elizabeth Rowe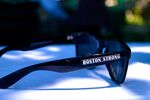 A group of 18 freshmen studying business at Babson College have turned a curriculum requirement into a way to rally support for their city and contribute to fundraising efforts for victims of the Boston Marathon bombing in April.
EyeCare for Boston co-chief executive officers Hanson Grant and Raymond Chen are leading a team of students selling "Boston Strong" wayfarer sunglasses. The shades, which cost $9.41—a flat $10 with tax—are printed with the Boston skyline on one side, and "Boston Strong" on the other. At the end of the semester, EyeCare for Boston will donate all of its proceeds to the One Fund, which benefits victims of the bombing.
Grant and Chen are enrolled in Foundations of Management and Entrepreneurship, a required course for freshmen studying business at Babson. Over the course of a year the freshmen launch, manage, and then liquidate their startup.  Proceeds from the class are donated to the community; since 1999, Babson's businesses have donated more than $430,000 to local nonprofits.
"A critical part of this course is working in the community and donating any profits you make from the business to a nonprofit organization," said Professor Donna Stoddard, who serves as one of two advisors to Grant and Chen's class. The group originally planned to sell sunglasses to raise awareness for eye diseases, but in the days following the bombing, they were inspired by "Boston Strong" trending on Twitter.
In the first week of sales, Chen and Grant sold 127 sunglasses, and within a month had nearly exhausted their first order of 600 pairs. The glasses are sold on campus and through a website.
Chen and Grant say business is so good that they are considering buying their business from the college at the end of the semester. "We were able to break even within a week of sales," Grant said. Chen cited the strong ties between his employees as a reason for the business's good fortune: "I feel like the chemistry is what keeps us glued together, and it's also what makes us so successful as a company."
Stoddard says this experience has been a valuable one for her students. "The truth is, they're learning a little bit about every aspect of business."
Join the discussion on the Bloomberg Businessweek Business School Forum, visit us on Facebook, and follow @BWbschools on Twitter.
Before it's here, it's on the Bloomberg Terminal.
LEARN MORE