More Wharton MBAs Are Opting for Startups
Elizabeth Rowe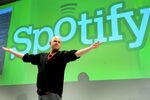 The percentage of Wharton MBAs starting their own businesses at graduation has nearly tripled in five years, and the number of students working summer internships with startups is up nearly 15 percent since last year, the school says.
So far this year, 7.4 percent of Wharton's 2013 graduating class are starting their own companies, up from 6.1 percent last year and 2.6 percent in 2008. The number of first-year students working internships with startups has hit 70, up from 61 last year.
Marissa Hu, a president of the Wharton Entrepreneurship Club (called eClub for short), says the culture of Wharton is shifting. "I think that there's been a big push from Wharton to support students who are interested in entrepreneurship, through career management and all of the other resources that they provide."
The types of businesses Wharton MBAs are starting has changed. In 2012, 14 percent of student ventures were in the health-care industry, and that number is down this year to 8 percent. The percentage of student ventures in consumer goods and food, however, has doubled since 2012, to 8 percent from 4 percent. Financial services has seen a big jump, too—tripling to 15 percent, from 5 percent last year.
Hu says the surge in interest in startup internships includes a fair number of students without concrete startup plans of their own. "There's a group of students that haven't come up with an idea or found a team yet [for their own startup], but they still want that experience."
The industries of startup internships have shifted significantly. Technology startups are down from 47 percent in 2012 to 32 percent this year, while health care is up to 19 percent from just 5 percent in 2012. The proportion of media startup internships has tripled, with the industry accounting for just 2 percent of startup internships in 2012 and 6 percent this year.
"It definitely makes me happy to see that there's a shift toward entrepreneurship in general at Wharton," says Hu, who is in the midst of working on her own startup, Co-Ed Supply, which delivers monthly care packages to college students who subscribe to the service. "It shows that MBAs are finding ways to be valuable to startups instead of going to bigger corporate companies. There's definitely been a shift in terms of learning the important skills that can be useful in those areas."
Join the discussion on the Bloomberg Businessweek Business School Forum, visit us on Facebook, and follow @BWbschools on Twitter.
Before it's here, it's on the Bloomberg Terminal.
LEARN MORE