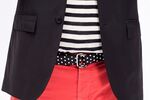 The average guy's wardrobe is a pretty drab place. Blacks, blues, the occasional yellow. You could be describing a bruise. Then summer rolls around, and with it the entirely reasonable impulse to be summery.
A few prints might be plausible for some. Most of the time the phrase "summer patterns" is reserved for dresses and migratory birds. Ties are one outlet, but when the thermometer hits 95 the impulse is to wear less, not more.
Which leaves few options for summer flair -- among them belts. While most people would get laughed out of the office for wearing, say, a shirt plastered with marlins or hippos, somehow it's perfectly acceptable to wear such a pattern around your waist. For those unable or unwilling to haunt the Murray's Toggery Shop outlet on Martha's Vineyard, there's a variety of alternatives.
Smathers & Branson, needlepoint makers to WASPs from Newport to Nantucket, make seascape belts ($165) just bizarre enough to make it worth the price. For something a bit cheaper, you can go toMurray's Toggery Shop online , which sells belts from YRI for a much more moderate $38. Barneys sells a woven striped belt by Caputo , now on sale for $59.
Yes, they're a bit flashy. But you've got the rest of the year to be black and blue.
James Tarmy reports on arts and culture for Bloomberg Muse, the arts and leisure section of Bloomberg News.
Before it's here, it's on the Bloomberg Terminal.
LEARN MORE