From B-School to Pre-School
Francesca Di Meglio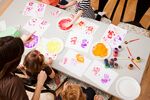 The timing couldn't have been worse. Two weeks after Denise Adusei was accepted to business school, she learned she was pregnant. Taking on both challenges simultaneously was stressful, but it would ultimately result in one of the strangest of MBA career choices. In March, the 2010 graduate of  Columbia Business School opened a pre-school in Harlem.
Starting school when she was seven months pregnant, Adusei had her trepidations. When she delivered her daughter in the middle of first-semester finals, her professors allowed her to view recorded classes and take her exams at a later date. Adusei's cluster even threw a baby shower for her. Later, CBS connected her with others who had gone to school while caring for a baby; she says this put her at ease, and she joined a club on campus for mothers in business.
"Everyone else [in my class] was just focusing on business school," she says. "And I was worrying about whether my baby was sleeping enough—and potty training."
After having trouble finding child care for her daughter during her second year of B-school, Adusei decided the neighborhood needed a safe and progressive place for childcare. She dropped her plans to go into the medical devices business and planned instead to launch what would become Peartree Preschool in Harlem, not far from CBS.
It took a year to raise the capital and another year to finish construction before the school was ready to open. The eco-friendly pre-school exposes students to nature, despite being in a city. Through playtime and projects, they work on language and socialization skills with peers. With five classrooms, the school serves about 75 kids aged 2 to 5. Parents can drop off their children as early as 8 a.m. and pick them up as late as 6 p.m. Tuition ranges from $10,000 to $18,000 per year.
The pre-school should be 100 percent full by September, says Adusei. The fall class will include the children of 15 Columbia University-affiliated parents. About five applications for admission arrive per day, she adds. And Columbia University lists it among the child-care facilities that it recommends to students, faculty, and administrators.
As executive director, Adusei enrolled her 4-year-old daughter in the school, and her 18-month-old will join them when she turns 2. "I love being able to choose my child's pre-school teacher," she says.
Kelly Garnes-Pages, who will be starting the full-time MBA program at CBS in the fall, has a 21-month-old daughter who will be attending Peartree. She says the Peartree curriculum and the ability to take an active part in her daughter's education is what attracted her to the school.
"I want to remain an active and engaged mom," she adds, "even though there will have to be give-and-take once I start business school."
Join the discussion on the Bloomberg Businessweek Business School Forum, visit us on Facebook, and follow @BWbschools on Twitter.
Before it's here, it's on the Bloomberg Terminal.
LEARN MORE