Daughter's Got a Brand New Bag, and It's Louis Vuitton
by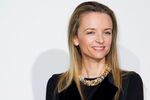 Bernard Arnault, head of LVMH Moët Hennessy Louis Vuitton, has handed his 38-year-old daughter one of the luxury group's biggest challenges, revitalizing the flagship Louis Vuitton brand that is showing signs of wear and tear.
Delphine Arnault on June 25 was named executive vice president of Vuitton, with responsibility for overseeing its product lines. She'll be the No. 2 executive in a unit that accounts for half of LVMH's pretax earnings, evidence that she's being groomed for a top job—perhaps the top job—at the Paris-based luxury giant.
While Vuitton is still the world's most valuable luxury brand, it's losing ground to competitors such as Gucci and Prada as demand wanes for the iconic "LV" monogrammed handbag.
A report last month by consultancy Millward Brown Optimor estimated that Vuitton's brand value declined 12 percent over the past year. LVMH in April reported its weakest fashion and leather goods revenues in more than three years as sales flattened in China. As consumers "make room for those luxuries that make them feel better by trading down on other items, it is the middle-of-the-road brands," such as Vuitton, that have suffered, Millward Brown Optimor said.
Delphine Arnault's task will be to give the brand a more exclusive aura, deemphasizing its ubiquitous monogrammed canvas bags and introducing costlier leather bags. In the short term, that could depress sales growth, as LVMH also has said it plans to open fewer Vuitton boutiques.
Delphine is the eldest of Bernard Arnault's five children. For the past five years she has held the No. 2 job at Christian Dior Couture, also controlled by her father. (Younger brother Antoine works at LVMH's Berluti meanswear unit, and both siblings are on LVMH's board.) At Dior, she helped to bring in designer Raf Simons after former design chief John Galliano was ousted in 2011 for having made anti-Semitic slurs.
Before it's here, it's on the Bloomberg Terminal.
LEARN MORE