pursuits
Carnival's Painful Limbo Contest: Lower Fares, Sinking Profits
By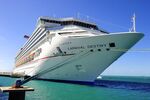 It's not difficult these days for a value-conscious vacationer to score a deal on Carnival Cruise Lines. The trouble for the beleaguered cruise giant is that many vacationers are still avoiding the brand. That's what happens when your cruise ships become TV news fodder, as the Carnival Triumph did in February after an engine fire left it adrift in the Gulf of Mexico.
What started as a public-relations disaster has led to a predictable financial mess for the Miami-based cruise operator, which has seen its bookings for this year fall behind 2012 levels, even as its cruise fares have moved lower in a bid to win back wary travelers. For Carnival's nine additional brands, including Holland America, Princess, and Costa, bookings have been stronger than a year ago, even with higher prices. The biggest hitch in this math, however, is that Carnival is the company's largest U.S. brand, with the most inventory to sell.
Carnival's net income of $41 million topped forecasts, helped by a nearly 10 percent drop in fuel costs and less fuel use across its fleet. But the company had already cut its 2013 profit outlook last month because of the rampant discounting used to help fill ship berths. Some three-night Carnival cruises are selling from prices as low as $209. Five nights? Those have sold for as little as $249. A seven-night Caribbean cruise in August? Yours for $369, if you don't mind an interior cabin. In April, as Carnival desperately sought to restore sales from the Triumph debacle, some four-night cruises from Miami were being sold for a mere $149.
Those types of bargains weigh heavily on revenue yields, and company officials warned that they're likely to continue well into 2014 before the Carnival brand recovers some pricing power. "With a successful reintroduction of the Carnival Triumph … we believe this will serve as a bottoming inflection point and we are expecting Carnival Cruise Lines' pricing to gradually improve over time," Howard Frank, Carnival's chief operating officer, said on Tuesday in a call with analysts. The company also expects to spend more on marketing later this year to help move cruises, although Frank said "it will take two to three years for the Carnival brand to fully recover."
Carnival also announced today that director Arnold Donald, a longtime Monsanto executive and Carnival board member, will take over as chief executive from Micky Arison, who will remain board chairman. The split of the company's chairman and chief executive duties wasn't tied to the cruise line's recent travails, although Arison—who owns the Miami Heat basketball team—took his own heat in the press for his having kept a low profile during cruise crises and for attending a Heat game amid the Triumph trouble.
Carnival spent $115 million to refurbish the Triumph, which returned to service on June 13 from Galveston, Tex., after nearly four months of repairs and upgrades. Tarnished name and all, Carnival spokesman Vance Gulliksen says the company has no plans to rechristen the 3,100-passenger ship, which was sold out last week. Triumph bookings are also higher than the rest of Carnival's fleet average, testament to the power of a bargain.
Before it's here, it's on the Bloomberg Terminal.
LEARN MORE