Florence Knight to Open Eatery in London's Nightlife Area
Richard Vines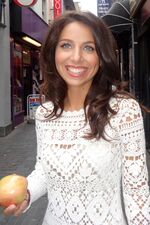 Florence Knight, one of London's most feted young chefs, plans to open a restaurant in the city's Soho nightlife area as restaurateurs Russell Norman and Richard Beatty expand their group of New York-style venues.
Polpetto is scheduled to open at 11 Berwick Street in November, along the road from a strip of porn shops and clubs. The establishment returns after a hiatus that followed the short-term closing of its original incarnation -- which Knight also headed -- in May 2012. Knight, 26, publishes her first cook book on July 4.
Beatty, 48, and Norman, 47, also plan to add the Ape & Bird pub in Covent Garden in November and have signed with Soho Estates to open a 4,500 square-foot (418 square-meter) restaurant and bar on Walkers Court, a Soho passageway that is currently filled with sex shops. The Polpetto owners are best known for Polpo, whose first location opened in 2009.
"People think we're opening a lot of restaurants, but we've only got five and it's because the initial Polpo was so successful that we've been able to fund our growth," Norman said in an interview. "We don't have a third-party investor: We simply build restaurants on the back of cash flow.
"We estimated that the weekly turnover we needed to keep our heads above water at the original Polpo on Beak Street would be about 18,000 to 20,000 pounds ($27,700 to $30,700) and it's regularly doing two to three times that."
(The plans for Walkers Court, which provides access to Berwick Street, include offices and the resurrection of the Boulevard Theatre, home of the original "Comic Strip" show.)
Venetian Snacks
Polpo is a casual venue where Venetian snacks and dishes are served and reservations aren't taken for dinner. The group - - three branches of Polpo, plus Mishkin's and Spuntino -- now serves as many as 6,000 diners a week. The average is 5,300 and the number last week was 5,422, Norman said.
The Evening Standard in November named Knight and Norman among London's 1,000 most influential people. Knight married Beatty, who is also a publisher, on May 18 this year.
Knight was little known when she joined Polpetto and had relatively limited restaurant experience. She spent a year doing a foundation course at the London College of Fashion before studying at Leiths School of Food and Wine.
She worked for Rhubarb Food Design, where she rose to be in charge of canapes, preparing tastings for customers such as Elton John. She also worked for the French baker Richard Bertinet and, at the Emirates Stadium, for Raymond Blanc. She was at Oxo Tower and was head chef for a year at St. Clements, a friend's restaurant off Fleet Street.
(The original Polpetto, above the French House in Soho, was on a short lease.)
Woman Chefs
Knight is among a handful of well-known woman chefs in London. The most prominent include Angela Hartnett (Murano), Clare Smyth (Gordon Ramsay), Helene Darroze (Helen Darroze), Anna Hansen (Modern Pantry) and Thomasina Miers (Wahaca).
How would she describe her Mediterranean-inspired cooking?
"It's simple and it's seasonal," Knight said in an interview. "It's reasonably delicate and I hope it's beautiful. I don't try to be a Heston Blumenthal. I just try to make good, honest food that people enjoy."
Next week, Knight publishes her first book: "One, a Cook and her Cupboard" (Hodder & Stoughton). When I photographed her on June 20, she was on the way for a photo shoot with a magazine in the Middle East. When I interviewed her yesterday, she was en route to make a pilot television show.
Is she headed for fame?
"My love is my kitchen and my restaurant," she said. "If something else happens, that's great but it's not my main thing. That's my restaurant."
(Richard Vines is the chief food critic for Muse, the arts and leisure section of Bloomberg News. He is U.K. and Ireland chairman of the World's 50 Best Restaurants awards. Opinions expressed are his own.)
Muse highlights include Warwick Thompson on U.K. theater, Scott Reyburn on the art market, Craig Seligman on books, Richard Vines on food and Amanda Gordon's Scene Last Night.
Before it's here, it's on the Bloomberg Terminal.
LEARN MORE