Why Facebook Thinks It Needs More News
by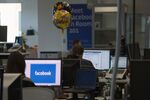 Facebook is working on a news-reading service for mobile devices, according to a report in the Wall Street Journal, and this development shouldn't come as a surprise. The invitation sent out for Facebook's product announcement last week resembled a coffee-stained print publication, and speculation quickly focused on the coming of a Facebook news reader. Here are three responses to Facebook's push for more news.
Facebook needs mobile. Facebook needs users to stay engaged with its product on mobile devices, and the company's difficulties on mobile have been a key factor in its disappointing performance on the stock market. But Facebook seems to be figuring this out to a certain extent. Mobile advertising, which accounted for 30 percent of revenue last quarter, is making up an increasing portion of Facebook revenue. Facebook Home is dedicated to getting phone users to stick around on the social network longer. Reading news, it seems, will be the next plank in this platform.
This isn't Facebook's Google Reader. There is a frantic scramble to replace Google's RSS reader, which was beloved by a relatively small but incredibly loud portion of Internet users. Digg, Feedly, Newsblur, and AOL are all on the case; Facebook is not. Based on what has been reported about its news-reader project, Facebook is competing more directly with Flipboard, a news app that seeks to attract users with its pleasing user interface. Flipboard devotees aren't the kind of people thirsty for the firehose of news offered by Google Reader and its replacement. Facebook's apparent move to compete with Flipboard makes sense because news junkies aren't really the core of Facebook's user base. Still, Facebook may not be the most logical company to win in the social-media news game. Twitter has a huge head start, and LinkedIn, CNN, and Yahoo! have all been working on news-aggregation products for some time.
Here's more ammunition for the "Facebook's a copycat" crowd. Facebook drew some criticism last week when it rolled out video for Instagram, a product that very closely resembled Twitter's Vine app. The company's product line has increasingly focused on things that have been done—and done well—by direct competitors or upstarts tightly focused on single types of services. This tendency is starting to get to some Silicon Valley pundits. "Jesus, was this a sad day for Silicon Valley," wrote Farhad Manjoo last week in Slate, arguing that it's not just Facebook that has been caught in this cycle. The fact that Mark Zuckerberg is now deeply involved in creating a product that already exists elsewhere isn't going to do much to dampen this kind of hand-wringing.
Before it's here, it's on the Bloomberg Terminal.
LEARN MORE