When the Self-Employed Shop for Insurance Under Obamacare
by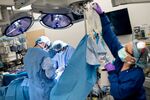 The Affordable Care Act requires Americans to have health insurance beginning next year or pay a penalty, and health exchanges will begin open enrollment on Oct. 1. With those dates fast approaching, government officials have stepped up efforts to squelch fears and clear up confusion regarding the health reform law. After meeting with Obama administration officials last week, Kristie Arslan, chief executive officer of the National Association for the Self-Employed, talked to me about how Obamacare is likely to affect independent workers. An edited transcript of our conversation follows.
What's most significant about the upcoming requirements for self-employed workers?
Many self-employed individuals purchase health insurance on cost: They buy catastrophic plans because they're more affordable. Those plans are not going to meet the [law's] requirements, so people are going to have to buy more comprehensive coverage, or pay the penalties. We're only just learning what premiums are going to look like, but it's going to be more expensive. So the plus side is that people are going to buy richer plans. The minus is that it's going to cost more.
Did the Obama administration address that issue when you met with them last week? What did you take from the meeting?
One of the positive aspects of all this is insurance market reforms. You can't be denied coverage because of your health status; even how much you pay for coverage is controlled to some extent. That means that people who were priced out are going to be entering the market, and those aren't going to be the healthiest people for the most part. That's going to make things more costly for the rest of us.
To offset that cost, the Obama administration is really focused on young adults—getting healthy people between 18 and 35 to purchase coverage through the exchanges. But one of the most popular parts of the law was allowing parents to keep their children on their insurance plans until they're 26, and a lot of the time, that's going to be cheaper than buying coverage on the exchanges. So if you're counting on young, healthy people going into the exchanges, you're talking about people who are older than 26. Meanwhile, the penalties for not buying insurance are so low—$95 or 1 percent of your income.
The administration is hoping that the age group is going to get serious help from the provisions for premium assistance written into the bill. But I don't think the question of how they're going to get young people onto the exchanges has been fully addressed.
What else are you worried about?
This is going to cost people more. They'll get better coverage, but they're going to be paying for it. And we're worried about whether our members are going to get any assistance—our average household income is $62,000, which is just out of range for premium assistance. Are our members going to do a cost-benefit analysis, [determine] it's cheaper to pay the fine, and go outside the exchange to buy supplemental coverage that doesn't meet legal requirements but won't bankrupt you in case of a catastrophe? There's a lot we don't know.
What should self-employed people do now?
Start learning as much as you can. Will your state be operating the exchange, or will it be the federal government? If you have health insurance and you're self-employed, call your carrier and confirm whether the plan is grandfathered in—whether the plan qualifies for minimum coverage requirements—so you know if you need to buy coverage or not. If you don't have coverage now, you'll need to look at purchasing something, or find out what the penalties are for going without. I'd be ready to price it all out. Open enrollment is Oct. 1 through March 31, but there's no reason you can't price it all out now.
Before it's here, it's on the Bloomberg Terminal.
LEARN MORE