Tracking Success Among Immigrant Entrepreneurs
by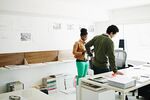 Last week, John Tozzi wrote about a Barclays report on the rich and how they got that way, noting that increasingly, the world's wealthiest people made their fortunes by launching, operating, and selling businesses.
That's true in the U.S., where 21 percent of high-net-worth individuals made their money through entrepreneurship, a hair more than the 20 percent of wealthy respondents who inherited their money. The growth of the entrepreneurial elite is even more striking in other regions. South Africa, Latin America, Asia, and even Europe showed dramatically higher rates of entrepreneurial wealth than the U.S.
There's an addendum to the Barclay's research in another recent study: First-generation immigrants to the U.S. are 27 percent more likely to start businesses than non-immigrants, and nearly twice as likely as are second-generation Americans.
Those numbers comes from the annual Global Entrepreneurship Monitor (PDF), which polled 5,500 Americans during the summer of 2012 and was published by Babson College in May. First-generation immigrants were also more likely to perceive opportunities for starting businesses in the U.S.—and less afraid of failure—than were non-immigrants or second-generation immigrants. They were more successful, too: Some 63 percent of first-generation entrepreneurs were in the top one-third of U.S. earners, compared to 50 percent of non-immigrant entrepreneurs.
A final note: While first-generation immigrants were more likely to launch companies, only 5 percent of new immigrants ran businesses that have been around for more than three-and-a-half years, compared to 9 percent for non-immigrants. As to why, the GEM researchers had more questions than answers:
"Do certain conditions in the U.S. environment make these businesses difficult to sustain? Do immigrants tend to start less-sustainable businesses? Do they have less training or access to resources to sustain them? Or do they simply leave the United States after some time, providing insufficient time for establishing and growing their businesses?"
Before it's here, it's on the Bloomberg Terminal.
LEARN MORE