Supreme Court Cautiously Curbs Affirmative Action at Universities
Paul M. Barrett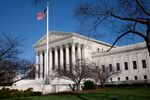 The Supreme Court resisted a broad statement on the constitutionality of university affirmative action in a compromise ruling (pdf) that instructs a lower court to give tougher scrutiny to racial admission policies at the University of Texas.
The decision will almost certainly encourage foes of racial preference policies to step up their attacks on such programs on campus and in other settings. The justices, however, did not offer a definitive condemnation of practices that favor minorities with the aim of promoting "diversity" in higher education.
Justice Anthony Kennedy, widely viewed as the Supreme Court's "swing" justice in ideologically charged cases, delivered the seven-justice majority's opinion. The court did not, however, divide neatly along partisan lines. The four more-conservative members of the high court—Chief Justice Roberts and Justices Antonin Scalia, Clarence Thomas, and Samuel Alito—voted with Kennedy. But so did two members of the court's more liberal wing: Justices Stephen Breyer and Sonia Sotomayor. Justice Ruth Bader Ginsburg dissented, and Justice Elena Kagan did not participate in the decision.
We'll have more shortly on the reasoning behind the much-anticipated ruling in Fisher v. University of Texas at Austin.
Before it's here, it's on the Bloomberg Terminal.
LEARN MORE