Snowden's Safe Haven? A Primer on Ecuador
By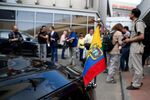 With rumors swirling that former U.S. intelligence contractor Edward Snowden is bound for Ecuador, the media spotlight has suddenly fallen on this tiny nation of 14.7 million—something that doesn't happen all that often. Folks who would have trouble finding Ecuador on the map (hint: look around the earth's belly band) suddenly have a pressing desire to know more about the country. Here are some salient facts.
Ecuador has an extradition agreement with the U.S. That document dates back to the late 1800s, though it was renewed on the eve of World War II. Relations between the two countries have been strained, however, since Rafael Correa, a U.S.-trained economist, was elected president in 2006. Correa, now serving his third term, is an acolyte of Venezuela's late leftist leader Hugo Chávez and a member of the Bolivarian Alliance for the Americas, a coalition of like-minded countries that seeks to act as a counterweight to U.S. influence. Academics and the press have frequently cited Correa's rise to power as evidence that there's a Pink Tide sweeping through Latin America.
While in office, Correa has done several things to annoy the U.S. For starters, he made good on his campaign promise not to renew the U.S.'s 10-year lease on Manta, a military base located near the Pacific that had been a staging ground for coca eradication and drug interdiction efforts in the Andes. During a 2009 ceremony marking the departure of the last U.S. troops from the base, Foreign Minister Fander Falconí said Ecuador, along with the rest of Latin America, "rejects all forms of supervision that attempt to bring about subordination."
Another irritant in U.S.-Ecuadorean relations is a long-running legal dispute over allegations that Texaco, now part of Chevron, polluted a remote section of the Ecuadorean jungle when it operated there during the 1970s. In 2011 a provincial court in Ecuador assessed damages now totaling $19 billion—the largest judgment of its kind in history. Chevron vowed never to pay a dime, and the two sides continue to wage battle in U.S. courts and international forums. No U.S. oil majors currently have a presence in Ecuador, though several European energy companies do.
Ecuador made news last year when Correa offered to shelter WikiLeaks founder Julian Assange, who at the time was under house arrest in the U.K. and awaiting extradition to Sweden, where he was wanted on rape charges. According to a blog post by Washington Post reporter Max Fisher, Assange and Correa became simpatico in May 2012, when the former interviewed the Ecuadorean president for a short-lived interview program that ran on a Russian TV network. A month later, Assange escaped house arrest and took refuge in Ecuador's London embassy, where he remains.
This morning, while on a trade mission to Hanoi, Ecuadorean Foreign Minister Ricardo Patiño read excerpts from a letter he said Snowden had written to Correa, petitioning for asylum. Part of it read as follows:
"As a result of my political opinions and the exercising of my rights of free expression through which I have shown how the United States is intercepting the majority of the communications of the world, the government of the United States has publicly announced a criminal investigation against me. Also, prominent figures in the Congress of the United States of America as well as different media outlets have accused me of being a traitor. And they have made a call that I be jailed or executed."
Speaking to reporters from inside the Ecuadorean embassy, Assange this morning said Snowden had received papers from the Ecuadorean government that helped secure his passage from Hong Kong to Moscow. He said that did not mean the Ecuadoreans would grant the former security contractor asylum.
Should Snowden eventually land in Ecuador, he'll find that the host government is hardly a champion of free expression. As the Committee to Protect Journalists has documented, Correa's administration has waged war on the press, landing the country on CPJ's Risk List last year. Russia, incidentally, was also on last year's list of 10 countries where press freedom suffered the most. And we all know about China and the Great Wall of Censorship. It's a sad irony that Snowden's efforts to evade capture by U.S. authorities seem to be taking this self-appointed guardian of transparency on a tour of some of the world's least press-friendly countries.
Before it's here, it's on the Bloomberg Terminal.
LEARN MORE