More Trouble in Big Law: Weil Gotshal and Patton Boggs
Paul M. Barrett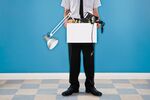 Even as the economy gradually recovers, Big Law continues to stumble. Illustrating trends discussed in a recent Bloomberg Businessweek cover story, two elite corporate firms—Weil, Gotshal & Manges and Patton Boggs—are going through troubling shakeups.
Weil Gotshal has fired a slew of associates and cut the compensation of 10 percent of its roughly 300 equity partners. The New York Times has this grim context:
"Dan DiPietro, chairman of the law firm group at Citi Private Bank, said that there were too many lawyers at the country's largest firms, estimating the excess capacity at as much as 10 percent of the lawyer population. He believes that the profession could possibly experience a wave of job cuts.

"'My guess is that a good number of firms have been thinking about right-sizing and waiting for someone to provide them cover and we'll see more of these moves,' Mr. DiPietro said. 'As difficult as layoffs are, it seems that they will be necessary for some firms to get in synch with the current market dynamics.'"
What's strange and interesting about the Weil Gotshal cutback is that the firm enjoys marquee clients like General Electric and a legendary bankruptcy and restructuring practice, which has presided over the lucrative dismemberment of the Lehman Brothers estate, among many other assignments. Weil Gotshal is slashing overhead and punishing low-producing partners not because the firm is in the red. It's taking these steps so that it can prop up its per-partner profits and remain competitive in American Lawyer's AmLaw 100.
Then there's Patton Boggs. The well-established, Washington-based lobbying and trade regulation firm lost 17 partners in a mass defection, the Washington Post reports: "It is not unheard of for a large number of partners to leave a law firm at the same time, but it often indicates internal unrest and can lead to sudden loss of significant business for the firm." It's way too soon to predict that Patton Boggs has slipped into a death spiral à la Dewey & LeBoeuf, but partner defections is how those disasters initially manifest themselves. In March, Patton Boggs let go of 65 people—30 attorneys and 35 staff—in a move designed to save nearly $15 million.
Patton Boggs is going through this turmoil at a time when the firm is engaged in a bizarre cage match against Gibson, Dunn & Crutcher. That clash relates to the firms' involvement in a two-decade-long pollution case against Chevron. Los Angeles-based Gibson Dunn represents the oil company; Patton Boggs, the rain forest residents who won a $19 billion judgment against Chevron in a provincial court in Ecuador.
At the oil company's behest, Gibson Dunn is trying to prove in a racketeering lawsuit in federal court in New York that the Ecuadorian verdict stems from a corrupt conspiracy facilitated by New York plaintiffs' attorney Steven Donziger and Patton Boggs, among others—allegations Donziger and the Washington law firm vehemently deny.
If you still need persuading that these are bitter times in Big Law, consider that, according to American Lawyer, malpractice claims against law firms are on the rise, and litigation by law firms against their own clients is proliferating. "As spring fades," the trade magazine observes, "a fresh law firm lawsuit-palooza" blooms.
Before it's here, it's on the Bloomberg Terminal.
LEARN MORE