MBA Journal: Countdown to Takeoff
Gregory Paige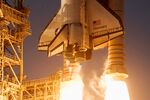 During the MBA application process, and early in my first year at UCLA Anderson School of Management, I often heard that the next two years would pass by in the snap of a finger. Now here I sit, having completed my first year, wondering what exactly just happened. Is it already halftime?
A lot happened, of course. Amid fall quarter, the concept of time management took on a whole new meaning in the perpetual tug of war among academics, networking/recruiting, and socializing. Winter quarter was defined largely by summer internship recruiting, during which assignments often took a back seat to cover letters and interview prep. There was also some skiing in Breckenridge, surfing in Nicaragua, and a poorly executed Harlem Shake video in Hermosa Beach. Year one, if nothing else, provided ample opportunity to wear costumes.
The MBA, however, is very much the epitome of the saying "The more you know, the more you realize how much you don't know." Business school has exposed me to concepts, industries, and cultural nuances I had never before encountered. Consequently, each new experience opens up new floodgates of the unknown. There are so many ideas worth exploring and people worth meeting, yet it's not feasible to run recklessly down every path. Thus, the MBA provides frameworks—both analytical and interpersonal approaches—to help organize and prioritize what's in front of you and make it useful; to extract the relevant from the clutter, to inform sound decisions. These are processes that will help me navigate business and everyday life alike. That's what I believe to be the true value I've captured from UCLA Anderson.
Still, there's more to come in my B-school journey. At the conclusion of my previous entry, I was still in the process of landing a summer gig. Just a few days later, I noticed a Parker Career Management Center posting for a marketing position with Mattel's Digital Initiatives Group (DIG). Rewind to the fall of 2012, and Mattel was actually the first company with which I formally interviewed. While the fit wasn't quite right for the brand marketing positions, our conversations repeatedly turned to DIG. Unfortunately that group hadn't yet established MBA intern positions. Today, I'm happy to report that I'll be spending my summer here in L.A. at Mattel with DIG, in a marketing role that almost perfectly facilitates my transition from advertising to a client-side marketing career in the digital/high-tech space.
Despite an exciting and challenging summer internship experience ahead of me, I'm already looking forward to reuniting with my classmates to take on year two. We'll immediately tackle the Applied Management Research Program, for which we form teams of five for a real-life, 20-week strategic consulting engagement with client organizations. With my class schedule comprised solely of electives, I may even take an undergrad-level course to brush up on my Spanish. Ultimately, my second year at UCLA Anderson will be a launch pad for the next phase of my life, and I intend to enjoy every second of the countdown to takeoff.
Join the discussion on the Bloomberg Businessweek Business School Forum, visit us on Facebook, and follow @BWbschools on Twitter.
Before it's here, it's on the Bloomberg Terminal.
LEARN MORE