Grants for Startups Making Government More Transparent
By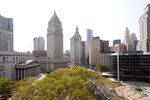 Six months ago we wrote about a startup called OpenCounter that's trying to make it easier for entrepreneurs to get all the local permits and paperwork necessary to start a business. The company was supported by the nonprofit Code for America, which recruits talented programmers to write software for local governments. OpenCounter used Santa Cruz, Calif., as its laboratory. Today the startup got $450,000 from the Knight Foundation to expand its program to other cities.
The idea behind OpenCounter is to walk would-be business owners through the tedious local permitting process. Instead of sending someone who wants to open a coffee shop to a half-dozen different City Hall offices to get a business license, food permits, zoning sign-offs for renovations, and the like, OpenCounter consolidates all the information about requirements and fees on one website. This will let people get that information and, ideally, send their applications and payments even when municipal offices are closed.
OpenCounter was one of eight companies that together got $3.2 million in funding from the Knight Foundation to make governments more accessible to the public. One of the other winners, Procure.io, is trying to make it easier for small businesses to bid on government contracts. The winners, chosen from more than 800 submissions, were announced today at the MIT-Knight Civic Media Conference at the Massachusetts Institute of Technology. They're a mix of nonprofits and for-profit social enterprises.
The Knight News Challenge has been supporting journalism startups for six years, but the program has expanded to fund projects focused directly on making government more transparent to citizens. "Anything that enables you to more easily be civically active, we think is important," says Michael Manness, vice president for journalism and media innovation at Knight.
Government permitting and procurement are distinctly unsexy problems for startups to solve. Cities often don't have the money or know-how to fix the antiquated processes involved with starting a business. The private sector has little incentive to do such work. If innovative nonprofits like Knight and Code for America can get the job done, though, it's like investing in better roads or infrastructure: public goods that should benefit everyone.