Get Ready for the Same Old Twinkie
by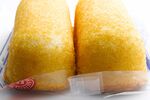 It was nostalgia, in part, that helped save the Twinkie when the dessert was seemingly doomed by the 2012 bankruptcy filing of Hostess Brands. So when the rescued snack company relaunches the Twinkie on July 15, it will restock shelves with the exact same yellow, cream-stuffed cakes consumers remember—and hope those fond memories will prompt a rush of buying. Even the price tag, $3.99 for a box of 10 Twinkies, will remain the same.
The biggest change consumers can expect, for now, is a new tag line for the entire Hostess line: "The Sweetest Comeback in the History of Ever." CupCakes, Donettes, Zingers, Ho Hos, Ding Dongs, Fruit Pies, and Mini Muffins will also return on July 15. Sno Balls will be back in the next few months, company spokeswoman Hannah Arnold wrote in an e-mail.
These snacks are indeed iconic, though the decision to leave them largely unchanged is interesting for a company that has been criticized for failing to innovate as other classic brands such as Clorox and Campbell Soup have successfully evolved. "Innovation is an important part of every successful company and will be a key part of our strategy moving forward," said Daren Metropoulos, principal of Metropoulos & Co., one of the companies that bought the rights to Twinkies and other Hostess cake brands, in an e-mail. "In addition to continuing to ensure we are baking the highest-quality products, we will be looking to expand our product line in ways that will continue to keep it fresh, relevant, and in-line with evolving consumer preferences."
As for Twinkies' marketing, Rich Seban, president of Hostess Brands, said in a statement that the company has "a once-in-a-lifetime opportunity to leverage the firm's inherent nostalgia and, at the same time, return to shelves with a new attitude that's bolder and even more relevant to today's consumers." Hostess is working with Kansas City (Mo.)-based ad agency Bernstein-Rein and New York-based LAK Public Relations on the relaunch, which will include adverting, social media outreach, and other marketing efforts.
Before it's here, it's on the Bloomberg Terminal.
LEARN MORE