Diageo's $2.1 Billion Turkish Hangover
By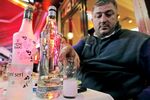 Someone on Diageo's  team needs a stiff drink right about now. The company's big bet on Turkey is drying up quickly, as the government enforces a new law that forbids alcohol advertising and severely restricts the places and times at which booze can be sold in the country.
The shift wouldn't have troubled Diageo, the world's largest distiller, had it not forked out $2.1 billion in 2011 to buy Mey Icki, a maker of the region's traditional raki liquor. The sale price, financed by cash and debt, was certainly not a crippling sum to Diageo. But it marked the beverage giant's biggest acquisition in more than a decade, representing about 14 percent of its revenue that year. Given the new restrictions, Diageo's return-on-investment projections on the Mey Icki deal are in tatters, and the political climate means it's also increasingly unlikely the London-based company will be able to use its Turkish purchase as a platform to push its other spirits into the country's 50,000 or so liquor stores. Shares of Diageo have fallen by about 8 percent since the Turkish government passed the law.
Diageo declined to answer questions about its Turkey business. Galip Yorgancioglu, a managing director in the country, said in a statement that the company is disappointed in the "lack of industry engagement" in the legislative process, but is looking forward to working with authorities "to ensure that each component of this proposed law is both workable and effective."
As a liquor market, Turkey was tiny, even before its lawmakers moved the punch bowl. Last year, its 74 million residents quaffed about half as much in spirits, by volume, as the residents of Italy—and about one quarter the amount in the U.K., according to IWSR, a London-based research firm. There  appeared to be solid potential, however. In the past five years, Turkey was one of the only countries in recession-ravaged Europe in which liquor sales grew. In that time, spirit sales in Turkey increased at an annual rate of 13 percent, according to Bloomberg data.
Diageo and its investors will move on quickly, but the experience won't go unnoticed in a global liquor industry increasingly focused on winning brand loyalty from the rising middle-class in emerging markets. There's probably more political risk in the mix than they think.
Before it's here, it's on the Bloomberg Terminal.
LEARN MORE